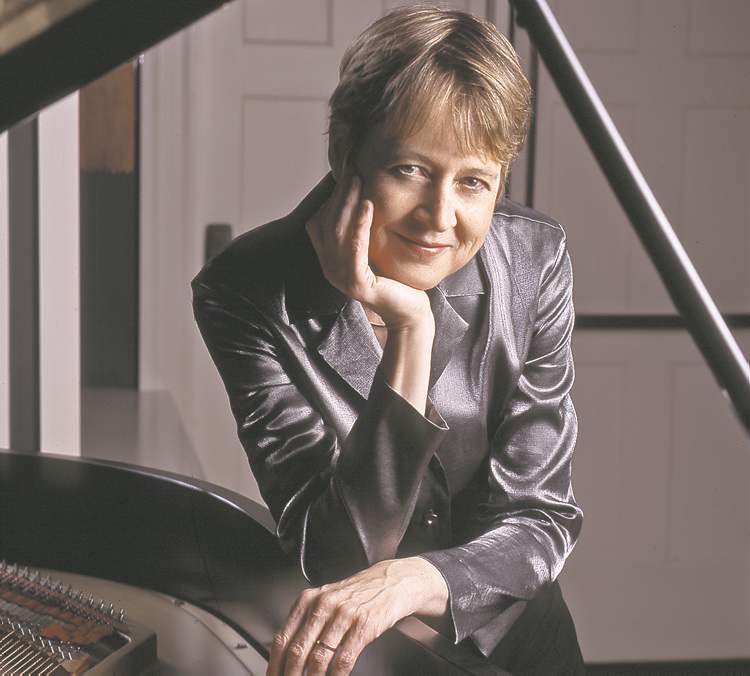 JAMES STRECKER: If you were asked for 50 words for an encyclopedia to summarize what you do, or have done, in the arts, what would you say?
JANE COOP: I have spent my entire adult life trying to improve both my playing and my teaching. I had wonderful guidance early on from magnificent teachers, and I have used that foundation upon which to build a satisfying and stimulating life in music.
JS: What important beliefs do you express in or through your work?
JC: I believe in communicating to people through music – in finding the human expression in every work and telling that story, whether it be literal or metaphorical, in whichever language the composer uses.
JS: Name two people, living or dead, whom you admire a great deal and tell us why for each one.
JC: Beethoven for the utter mastery of his craft and at the same time the ability to dig deeply into the human condition; Haydn for his seemingly light-hearted persona, overlaying an expressive and brilliant mind.
JS: How have you changed since you began to do creative work?
JC: I hope I've grown personally alongside my musical journey.
JS: What are your biggest challenges as a creative person?
JC: Being able to realize to the fullest extent my vision.
JS: Please describe at least one major turning point in your life.
JC: Becoming a teacher. I found myself having to find all sorts of answers to questions that I had never even asked myself!
JS: What are the hardest things for an outsider to understand about what you do?
JC: The amount of time I spend at the piano, and the myriad of decisions I make each minute – even on stage.
JS: How and why did you begin to do creative work in the first place?
JC: My parents were music lovers, and our family regularly listened to music both on the radio and in concert. We did not own a TV until I was about 14. I can't remember not having music in my life. On the other hand, my parents never advised or expected me to make music my life!
JS: What haven't you attempted as yet that you would like to do and please tell us why?
JC: I have a lot of musical wishes – mostly learning specific works. If there is one body of works that I'd like to continue to complete it's the Mozart Concerti. Outside of music, I also have a lot of projects that I'd like to do, from major hikes, to being fluent in French, to reading a long list of books – there just isn't enough time!
JS: What are your most meaningful achievements?
JC: Recording and giving many performances of the complete Beethoven Piano and Violin Sonatas with the inspiring violinist Andrew Dawes, playing both Brahms Piano Concerti, guiding dozens of terrific students over the years and launching them into real careers in music.
JS: What advice would you give a young person who would like to do what you do?
JC: Pursue the study of music for the love of it. No other reason. With luck, one might make a life within its magnificent environment, but one needs to be flexible and willing to say "yes" sometimes to engagements or projects that don't necessarily fir the template of what a "concert pianist" is supposed to do!
JS: Of what value are critics?
JC: I'm not sure. Nice review help to keep up the morale, but don't really have a lasting effect. The bad ones last longer, but make you stronger.
JS: What do you ask of your audience?
JC: To actively listen. To try very hard to receive the message that the performer and the composer are sending out there.
JS: If you could relive one experience from your creative life, what would it be and why would you do so?
JC: I played a recital in the big concert hall in St. Petersburg. It was a fabulous experience because all the parameters were lined up – great piano, perfect acoustic, beautiful, atmospheric hall, totally engaged audience, and a well-prepared pianist!
JS: Name two places you would like to visit, one you haven't been to and one to experience again and briefly tell us why
JC: The Hebrides Islands, and Brittany. I consider Scotland and France my true homes.
JS: Please tell us about one or more projects that you have been working on, are preparing, or have recently completed. Why do they matter to you and why should they matter to us?
JC: I'm preparing a solo program made up entirely of works that I've wanted to play for some time. I haven't built the program based on the usual parameters. I'm challenging myself in different ways, and I hope that I can persuade the audiences to love these works as I do.
JS: Let's talk about the state of the arts in today's society, including the forms in which you work. What specifically gives you hope and what specifically do you find depressing?
JC: Arts organizations today are struggling more than ever before. It seems that live music is not vital for humanity's nourishment. What gives me hope is that the young generation of musicians is better than ever, and determined to keep this great art at the forefront of society. And these people have the imagination and energy to not only keep things going but also to raise the bar.
JS: Finally, what do you yourself find to be the most intriguing and/or surprising thing about you?
JC: You'd have to ask someone else that – someone who knows me!