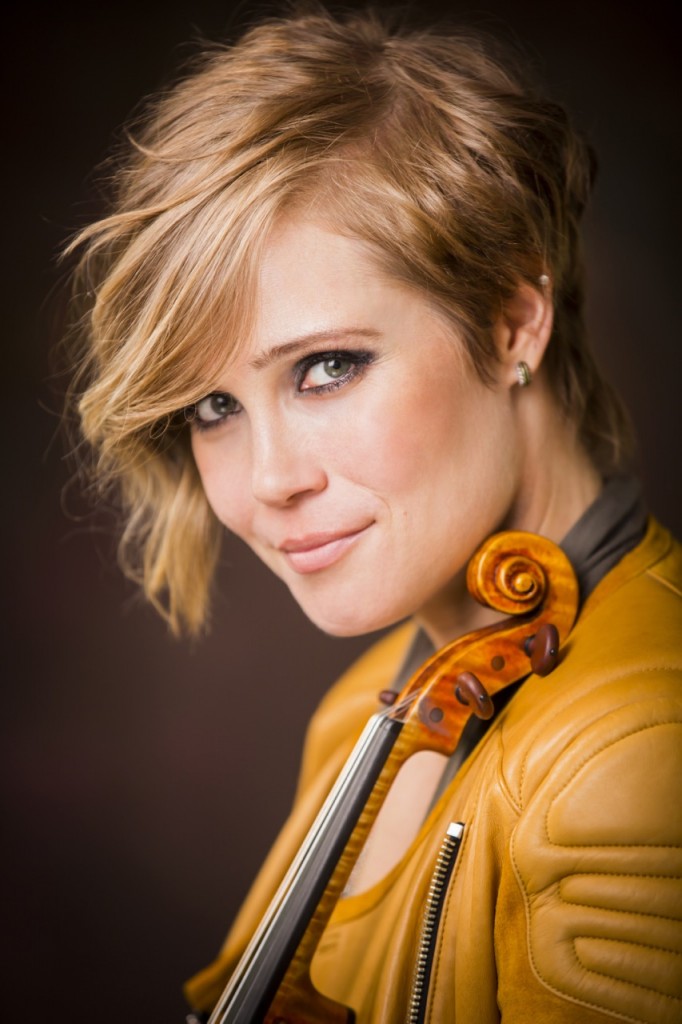 James Strecker: You're widely respected as a champion of new works –compositions by Adams, Ades, Knussen, and conductor-composer Esa-Pekka Salonen, to name a few- so please tell us what such works bring that is distinctive to the canon of violin music. What are your reasons for promoting new music as you do?
Leila Josefowicz: When I was in my late teens and performing a lot around the world, I started to have the feeling of questioning myself. Playing standard works for my lifetime, is this what I wanted to do? I realized that there are many people playing the same works over and over, and that adds to the mode of comparative listening that many classical music fans have. I started hungering for more spontaneity, more adventurous thinking in music, I wanted to be known for repertoire that is more daring, more unexpected, and not following in the path of many other musicians. My first experience playing a living composer's work was John Adams, and it was as if the whole world opened up in front of me, for myself and my own creativity and inspiration, but for my career path as well. I decided at that point when I was in my very early 20s that this was the way I need to go musically as well as spiritually. I then worked with many composers that conduct such as the ones that you listed so that I could perform with them as well on the stage. I could write a whole book about how each composers' aesthetic is and how they have made their mark on 20th and 21st century composition. But it was an amazing experience and continues to be as I collaborate with them.
JS: Let's talk about violins. In 1993 and 1994 you had the loan of the famous "Ruby" Stradivarius, which you used on your first CD –the Tchaikovsky and Sibelius concerti. Since 1995 you have used Dr. Herbert Axelrod's Guarnerius del Gesù instrument known as the "Ebersolt." What do these instruments each uniquely offer and how does it feel to be playing them? What do you learn from them and how easily does a classic violin become your personal voice of expression?
LJ: It might be mildly amusing to some people, but I am not a player that is very much thinking about his equipment, other than am I comfortable, and is this working for me. I feel very lucky to have played some great Strad and Del Gesu. But truthfully they were never a perfect fit for me, either it was not quite comfortable with the size of the instrument or the sound maybe wasn't quite powerful enough. The violin I play now by Sam Zygmuntowicz, made in 2013, is actually the perfect fit for me. We worked on the instrument together in that I gave him the exact measurements of a Bergonzi I was playing before and we had many sessions in different halls to get the sound of the different ranges of the instrument perfectly tailored to my needs. It really makes a big difference when something is made exactly for you! I feel very lucky and I couldn't be happier with my instrument now. There is also something special about specializing in more contemporary works, and having a violin that is also contemporary.
JS: I've heard that you love jazz, people like Sarah Vaughan and Miles Davis. Why do you love jazz, why do these two matter to you, what other jazz musicians do you enjoy, and for what reasons?
LJ: Amy Winehouse is my favourite singer for right now. She has this incredible soul, but a sizzle in the sound that is so special. But there is also something very unapologetic about how she delivers everything she sings and I find that so amazing and admirable. It is so essential for me to have the sounds of these great singers in my ear, I love to try to bring that freedom and soul to the music that I play. And even if it doesn't sound quite like it in a certain passage of contemporary music that I play it is always in the back of my mind. I want to try to replicate the same freedom that they have. I feel that a lot of the classical repertoire has not encouraged freedom in music making and I want to try to rectify that as much as I can.
JS: Developing as a professional musician and at the same time as a person with something akin to a life that other people call normal ………Does it all work out in trying to do both, does damage get done, how does one get through the hard times? I ask because, for one thing, you have a very demanding schedule and also because you are quoted as saying: "I sometimes think all artists need to have their hearts broken to become real – I have more self-understanding, and that comes out in my playing."
LJ: I need to dig into the depths of my being and my personality and my soul to get the most out of my own capabilities as a musician, and if one hasn't lived there isn't much to play about. One can never pretend that they have lived in music!