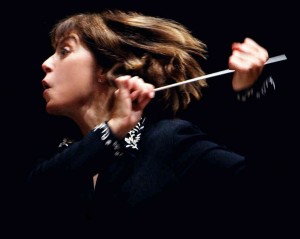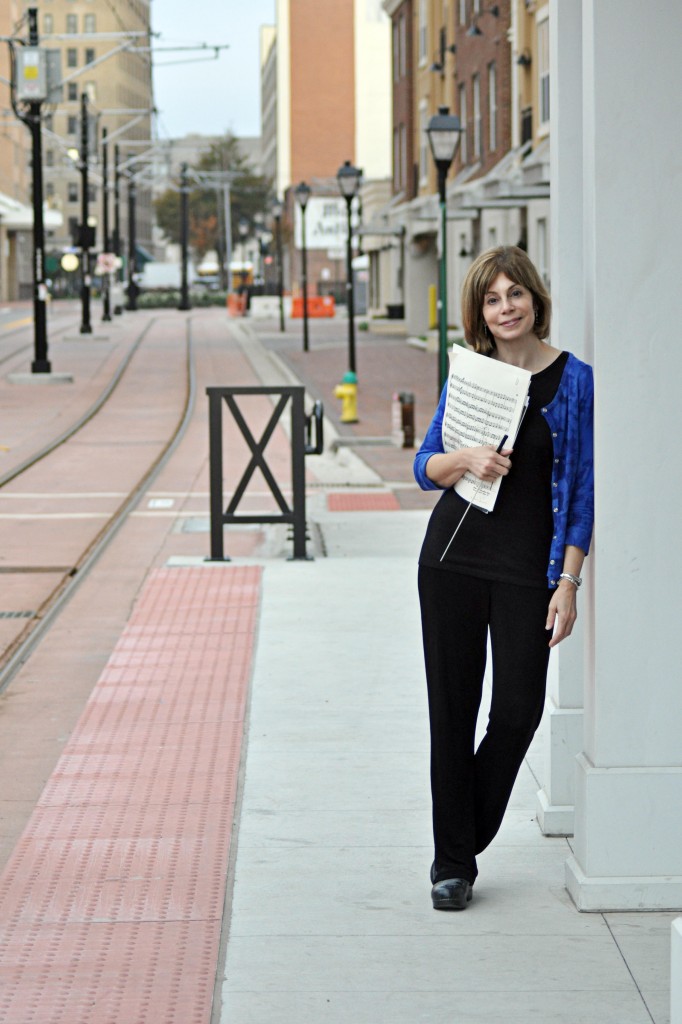 JAMES STRECKER: If you were asked for 50 words for an encyclopedia to summarize what you do, what would you say?
JOANN FALLETTA: As a conductor, I am a catalyst who energizes and enables the superb team of the orchestra. I establish a landscape where excellence can flourish. I must find the perfect synthesis of leading 100 musicians and allowing them to be free at the same time.
JS: What important beliefs do you express in your work?
JF: In my work, I express my belief in the people around me- in their talent, their dedication, their excellence. I also celebrate and honor the extraordinary legacy of the music we play together- one of the greatest expressions of human creativity of all time.
JS: How have you changed since you began to do creative work?
JF: I am increasingly fascinated by the fluidity, the endless possibility in the pieces we play, and I am determined to let the result be informed by the unique personality of the orchestra. Each orchestra has a distinct character, sound, and way of making music, and allowing the musicians to imprint that uniqueness on each performance and recording is much more interesting to me than imposing a rigid interpretation.
JS: What are your biggest challenges as a creative person?
JF: My greatest challenge- in a large group like an orchestra- is finding a way to help every person feel intensely valued individually.
JS: Please describe at least one major turning point in your life.
JF: When I was appointed music director of the Buffalo Philharmonic, I felt that it was a major turning point for me. I inherited an orchestra with both a glowing artistic legacy and a troubled financial situation. The responsibility I felt to the musicians and the community was enormous, and it helped me develop as both a musician and an artistic leader.
JS: What are the hardest things for an outsider to understand about what you do?
JF: The hardest thing for an outsider to understand about what I do is how the musicians and I communicate with each other. Many times people ask me questions like "are the musicians really able to watch you?" Or "after the week of rehearsals, does the orchestra still need the conductor to be on stage?" It would be astonishing for them if they could realize the intense wordless communication between conductor and musician- expressed through gesture, eye contact, body language, facial expression and baton technique.
JS: How and why did you begin to do creative work in the first place?
JF: I have felt like a musician since I was seven years old and began to play classical guitar. There was not really a conscious choice for me- at some point I simply realized that music was who I was.
JS: What haven't you attempted as yet that you would like to do and please tell us why?
JF: I continue to try to introduce our listeners to music they might not know- either from the past or contemporary music. I like to "open a window for them", to help them make discoveries that will interest and delight them. But I always incorporate these new journeys into programs of composers that they know and already love. So it is a process that continues….there are many new pieces that I look forward to performing for them!
JS: What are your most meaningful achievements?
JF: Being a music director and helping the community to know, to value, and to love the orchestra more each season.
JS: What advice would you give a young person who would like to do what you do?
JF: To be prepared for a journey of hard work, complete dedication, many disappointments, countless surprises, and ultimately a life spent in the midst of the greatest beauty imaginable. To paraphrase one of my heroes, Leonard Bernstein: "the musician gives away his energies and his life just to make sure that one note follows another inevitably". That has been the great privilege of my life.
JS: Of what value are critics?
JF: Critics are very valuable for the performing artist. They put our work in context. They can see the forest, while we are often concentrating on each tree and every leaf. They force us to step back and see and hear through the audience's eyes and ears. I have learned a great deal from reviewers and critics who have taken the time to truly listen to us.
JS: What do you ask of your audience?
JF: The best audience is one who is open-minded, who is willing to let go and surrender themselves to the experience of listening, who does not worry about "knowing about the music" but is able to simply relax and "cross the bridge" to an island of tranquility in the midst of a very hectic life. I believe that each audience member feels very different- emotionally and physically- after sitting in the middle of music for two hours. Something changes inside each one of us- impossible to explain, but very real nonetheless. We often lose a sense of humanity in the everyday difficulties of life- and can find that humanity again, wordlessly, in a concert hall.
JS: What specifically would you change about what goes on in the world?
JF: Every child would be given the chance to hear and- most importantly- play music from the earliest possible age. Music and art education would be a priority in every level of education. I really believe that people who come to know and treasure music are the most open, most inclusive, compassionate human beings. The very ambiguity of music is part of its beauty- and an appreciation of that ambiguity can foster a true understanding of others, and an acceptance of difference.
JS: If you could relive one experience from your creative life, what would it be and why would you do so?
JF: I would like to go back to my seventh birthday and take my first guitar lesson with Mr. Cavadias again.
JS: Tell us what it feels like to be a figure in the media. What effect does this presence have on you?
JF: While I am really a shy person, I love the opportunity to talk about music. I want everyone to know that our music-making is for them, that the orchestra belongs to them. If I can open the door to the concert hall for them through a media presence, I am very happy.
JS: Please tell us about one or more projects that you have been working on, are preparing, or have recently completed. Why do they matter to you and why should they matter to us.
JF: Here is a list of projects I am particularly excited about:
-Tchaikovsky Festival in Buffalo
-Celebrating the 100th birthday of the school where I received my bachelor's degree, the Mannes College of Music, in a concert at Lincoln Center
-Conducting debut in Finland
-Recordings of the music of Kodaly and of Wagner (orchestral music of The Ring) for Naxos
-Concert celebrating 150 years of friendship with Canada
-My first ever performance of the Berlioz Requiem with the Virginia Symphony
-Concerts with Itzhak Perlman
-Two world premieres written for us by Rob Deemer and Kenneth Fuchs
-Conducting debut with the Berlin Radio Orchestra