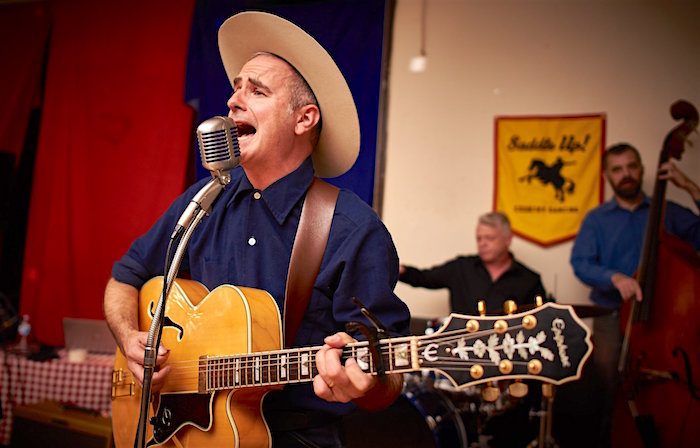 JAMES STRECKER: If you were asked for 50 words for an encyclopedia to summarize what you do, or have done, in the arts, what would you say?
TOM PARKER: Tom Parker is a Toronto-based traditional country music singer, songwriter, educator and instrumentalist. He has led a number of bands, recorded 5 albums of old-time and "classic" country music, both acoustic and electric, and currently leads the honky tonk group Colonel Tom & the American Pour.
JS: What important beliefs do you express in or through your work?
TP: I think that traditional country music, as opposed to "new country" or "big country", deserves to be heard and celebrated today. To my mind the songs of traditional country music are to the genre as American standards are to jazz music.
JS: Name two people, living or dead, whom you admire a great deal and tell us why for each one.
TP: Hank Williams: with an economy of words and melody he could create timeless songs that get right to the heart of humanity. Love, loss, longing, loneliness. Universal feelings, and to my ear universal songs.
Alex Pangman: (full disclosure…she's my wife!) a woman who has against all odds not only survived CF and two double-lung transplants but has excelled in her field of classic jazz. She lives, eats and breathes music. It startles me every day!
JS: How have you changed since you began to do creative work?
TP: I've always been what you'd call a "creative". I can't remember a time (other than when in a slump) where I am not working on some sort of idea. I think if anything I've had to change to be less reliant on being creative and be more practical over the years (see below).
JS: What are your biggest challenges as a creative person?
TP: Monetizing my creativity. It is very difficult to make a decent living as a traditional country musician at this time. I am also very bourgeois (!) and have never been willing to take a vow of poverty for my art. This is why I have been teaching music for the last 26 years.
JS: Please describe at least one major turning point in your life.
TP: When my wife Alex had to go through her surgeries I really had to step up and make sure that I was there for her all through the processes. I think it goes without saying that she and I both have a keen appreciation of life, and all that it has to offer.
JS: What are the hardest things for an outsider to understand about what you do?
TP: I think that some people have a hard time getting their heads around the fact that I am both a teacher and a musician. It seems like they want to categorize me as either one or the other, when I am in fact both.
JS: How and why did you begin to do creative work in the first place?
TP: I grew up in a musical family, and I've always been attracted to playing music. It just became natural. I was also lucky to meet up with a great bunch of people in Toronto and get involved in different musical groups over the years. Toronto is also a great place (in that it's sort of the cultural capital of Canada) to make connections in the music industry and advance my career.
JS: What haven't you attempted as yet that you would like to do and please tell us why?
TP: I have never attempted an international tour with any of my bands, largely because many of us in the bands I've played with maintained day jobs. We were able to play many festivals across Canada in the summer season, and into the states, but I have yet to play a tour of Europe.
JS: What are your most meaningful achievements?
TP: I played in a band called the Backstabbers Country Stringband back around the year 2000 that garnered a national reputation in the old-time acoustic music scene. Our music was getting played on the radio and we got a great deal of attention and print media, as well as getting placed in television and film. We also got to play the biggest stages in the Canadian folk festival circuit. It was fun to be treated like rock stars!
JS: What advice would you give a young person who would like to do what you do?
TP: I would say the phrase "Don't give up your day job" is not necessarily a bad saying. Particularly now that some of my purely music-playing colleagues are getting into their 50s and 60s and finding it difficult to get by.
JS: Of what value are critics?
TP: In my case, extremely valuable. A music critic from Toronto's NOW magazine named Tim Perlich had our band as a cover story and suddenly our shows went from being very well attended to completely packed in the period of a couple of months. We also had some attention from the national press just after that which made a big difference in terms of people recognizing who we were.
JS: What do you ask of your audience?
TP: I don't really ask anything. Sometimes I ask if anyone will buy me a drink when my glass is empty! Otherwise, I just hope people have a good time, laugh at the funny songs and cry with the sad ones.
JS: What specifically would you change about what goes on in the world and the arts?
TP: I don't know if I would change anything, but I get sort of put off by the fact that everyone seems to obsess over pop culture. So much of contemporary pop culture is mediocre and based on market research rather than art. Doesn't seem like it has a very deep soul to me.
JS: If you could relive one experience from your creative life, what would it be and why would you do so?
TP: I really enjoyed when one of my bands was at the height of its popularity and we could reach a lot of people. We got to play on stage to thousands of people at a time. Part of working as an educator is the fact that I have not been able to pursue my music career to the most of my ability. I made personal decisions or sacrifices, and this has come to affect my fan base, as it were. Let's just say that I'm getting used to playing smaller crowds now.
JS: Tell us what it feels like to be a figure who is presented somehow in the media. What effect does this presence have on you?
TP: I've always enjoyed, and never taken for granted, everything that the media has done for me. I think that when you are presented this way to people, it gives you something that you need to live up to.
JS: Name two places you would like to visit, one you haven't been to and one to experience again and briefly tell us why
TP: I would like to travel to Japan someday. The culture intrigues me, is very different from my own, and I think it would be fantastic to play music there.
Of course, the city that we go back to again and again is New Orleans. The rich culture and resilient people make it different every time we return.
JS: Please tell us about one or more projects that you have been working on, are preparing, or have recently completed. Why do they matter to you and why should they matter to us?
TP: My band Colonel Tom and the American Pour is a very steadfast and traditional country music act. I like to think that we are doing our part to keep this music vibrant and alive for contemporary listeners. I write songs in the style, and hope that we can make it modern sounding and attract new fans to the genre.
JS: Let's talk about the state of the arts in today's society, including the forms in which you work. What specifically gives you hope and what specifically do you find depressing?
TP: Well, one great thing about playing in a honky-tonk band is that you can get your music out into the bars, where there is a lively audience. I really enjoy playing our music for kids in their 20s who just want to come out and party their asses off, blow off some steam at the end of the work week. One of the sad things recently is that more and more people think that music should be free and that musicians should just give their music away. So, while it is relatively easy to get one's music to peoples' ears, it is getting more and more difficult for me to pay my musicians properly!
JS: Finally, what do you yourself find to be the most intriguing and/or surprising thing about you?
TO: I am intrigued by the fact that, despite me being very urban, postmodern, relatively well educated, somewhat snobby about art and food & etc. I continue to absolutely love simple, straightforward, and very old-fashioned country music.