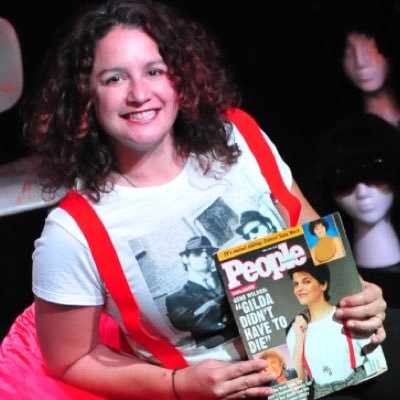 Manon Halliburton Photography
JAMES STRECKER: If you were asked for 50 words for an encyclopedia to summarize what you do, or have done, in the arts, what would you say?
HELENA K COSENTINO: Helena is a performer, director and Theatre educator. She created and performs a one-woman show Gilda: A Tribute to the Beloved Comedienne Gilda Radner. Helena also developed Storizenmotion, a process for developing original material through improvisation and ensemble work inspired by Action Theatre, the Life-Art Process, Theatre of the Oppressed and Playback.
JS: What important beliefs do you express in or through your work?
HKC: Theatre, art, music and movement can all be used to help us process through our life, heal our hearts, celebrate our experiences and can inspire change. Performance has the power to bring people together. Artists have a deep desire to be heard and to connect with others. Through the telling and hearing of stories we discover the universalities of our human experience and we don't feel so alone.
JS: Name two people, living or dead, whom you admire a great deal and tell us why for each one.
HKC: Gilda Radner. Ever since I was a little girl, I have been in love with Gilda. I grew up admiring her, laughing at her characters and basically wanting to be her. Maybe it was her childlike persona that I love so much. Because of Gilda, I have been inspired to laugh at life (including the difficult stuff), love the art of comedy and try not to take a second for granted. Gabrielle Roth for developing a dynamic movement practice called the 5Rhythms. It ignites creativity, connection, and community. For me, it is a spiritual practice. You literally "Sweat your Prayers". It has been a constant tool for me to process through life, be comfortable in my own skin, be in the moment, let loose, explore and leave it out on the dance floor.
JS: How have you changed since you began to do creative work?
HKC: I started out as a fearless child performer who loved to be the center of attention. As I grew older, I became less confident and I started to feel like being an actor was a self-absorbed thing to do. I didn't want to be up there for the applause. I began to crave meaningful theatrical experiences that brought people together. So, I started throwing myself into interactive theatre. I found the process became way more important to me than product and the healing power of theatre revealed itself. Don't get me wrong, I do embrace pure, fun entertainment. I love the silly and outrageous. It helps us to forget all the troubles of the world for a minute, just laugh and have a good time. I have recently discovered a love for writing parodies and often get to perform them as a guest star for Late Night Theatre in Kansas City, Missouri.
JS: What are your biggest challenges as a creative person?
HKC: The balance of creative life and work, the inner critic and self-promotion. Luckily, my day job of being a Theatre teacher has a built in creative element and I love my students. But, if I am not feeding myself creatively and doing my own projects then it directly affects my teaching and I am not near as inspired or happy. The inner critic always shows up. It took me 20 years to build the confidence, take a leap of faith and follow my dream to pay tribute to Gilda Radner. Even with the success of the show, I still have to give myself positive pep talks and pray before I step out of stage. Self-promotion as a solo artist and actor is also very challenging. In Kansas City, I have an Italian mama that can fill an audience faster than anyone. I also have an amazing support system of friends, family and fellow artists. But on the road, the hustle and bustle of doing a one-woman show, getting the word out and drawing an audience is very real. It is not easy to put yourself out there.
JS: Please describe at least one major turning point in your life.
HKC: After my first year of teaching in 1998, I wasn't quite ready to settle into adult life so I went and lived and worked on a holistic spiritual retreat center in upstate New York called the Omega Institute. There I was able to take a workshop called Bones a Ritual in Theatre with the late Gabrielle Roth and this intensive workshop changed my world. It gave me the tools to use dance, movement and theatre to process life, express and move through whatever I am going through. I do not know what life would be like if I didn't have this. I might be a mess.
JS: What are the hardest things for an outsider to understand about what you do?
HKC: Time and creative space. I need my space and I need hours of rehearsal time. I want to know it so well and feel so confident that I can walk out of stage and say I got this. In order for this to happen, I need to block off alone time, rehearsal time or just time to move and let it all out.
JS: How and why did you begin to do creative work in the first place?
HKC: I never decided. It is who I am. I have a deep desire to create. I feel most alive when I am connecting with an audience.
JS: What haven't you attempted as yet that you would like to do and please tell us why?
HKC: A full fledge tour of my show. I want to reach every city that has a Gilda's club and raise money all over the world for Cancer support in her honor. It is my tithing. I give my time, talent, treasure and whole heart to this show. I want to see it really make a difference.
JS: What are your most meaningful achievements?
HKC: My most meaningful achievement would be my Masters work in collaborative Theatre. I self-designed my own program through Lesley University in Boston. I worked personally with Ruth Zaporah, Augusto Boal, Anna Halprin and Jonathan Fox. Their inspiration and teachings led me to create my own creative process. I am also proud that I have 15 years of service with my school district. I have seen my students develop and grow into adulthood and accomplish great things and some even in Theatre. It is very rewarding.
JS: What advice would you give a young person who would like to do what you do?
HKC: Learn how to wait tables or bartend. Joking aside, I tell my students all the time to be who they are and find an outlet for their creativity. Be it visual art, dance, theatre, music whatever their passion is, do it. Don't let life bog you down and lose that creative self. Use it as an outlet to get through life. Put your whole heart into your work and don't take yourself too seriously.
JS: Of what value are critics?
HKC: I would like to say I don't read reviews, but I do. I have found they can help build my confidence and reinforce to me that I am on the right track. But they can also give you feedback for improvement. Sometimes I listen to them, sometimes I don't.
JS: What do you ask of your audience?
HKC: Don't look at your cell phones, turn them off, don't talk and try not to walk out to go pee. It distracts me. In all seriousness, I love how Gilda Radner puts it, that performing is a way to send and receive love. I feel that way. I am so very grateful that anyone would want to come to my performance. This one particularly is a big deal because of how I feel about Gilda, how moved I am to tell her story, and the vulnerability I feel when it is just me up there onstage. I just want positive energy. I want people to come and enjoy my performance but be open to take it all in. Together we can laugh, cry and then laugh again. One of the best compliments I got from a friend who told me my show changed him. He had been going through throat cancer and did not have the will to live. He saw my show and felt it gave him a new outlook in life. That means the world to me to be able to inspire a new lease on life. It makes all the hard work worth it.
JS: What specifically would you change about what goes on in the world and the arts?
HKC: Well, I am from the United States where there is a war on the Arts and Education. I along with most the people I know, just don't understand. So, the first thing I would change immediately is Donald Trump, Betsy Devos and all the cuts they want to make. For example, we have a reputable MFA program in Kansas City at UMKC and it is on the chopping block. It makes me sick. We have a big fight ahead of us to save our thriving community of Artists.
JS: If you could relive one experience from your creative life, what would it be and why would you do so?
HKC: A time when I performed with my Nonie in the audience before she passed away. Maybe an old community theatre in the park show or even when I was the costume character Papa Smurf at the mall in 80s. When I was on stage, she was always there, front row center beaming up at me with the eyes of a proud grandma. I was her heart and she was my biggest fan. I still think she comes to my shows in spirit.
JS: Tell us what it feels like to be a figure who is presented somehow in the media. What effect does this presence have on you?
HKC: So many people out there say, well if you can't do, teach. Well, I do and I teach. Like I said, being an Artist makes me a better teacher. I love to show my students what I am doing. It gives them a little more of a reason to listen to you.
JS: Name two places you would like to visit, one you haven't been to and one to experience again and briefly tell us why.
HKC: I have Iceland on the agenda. But, I could go to the Swiss Alps over and over again. It is my favorite place on earth. Up on the mountain, I feel close to God. It rejuvenates me.
JS: Please tell us about one or more projects that you have been working on, are preparing, or have recently completed. Why do they matter to you and why should they matter to us?
HKC: My Gilda Radner tribute has consumed me that past couple years. It matters because she matters. People miss Gilda and she is an inspiration. Gilda used humor and laughter to get through the struggles and cruelty of a life cut short, from being the fat kid to a young woman on top of her game struck with terminal cancer. Her comedy truly made fun of the very things she battled. This show is for all of us who loved watching her on SNL each week and also for the younger generations to transport them back to a time where humor was innocent yet edgy and poignant. Gilda is a classic and timeless force that will live with us for generations to come.
JS: Let's talk about the state of the arts in today's society, including the forms in which you work. What specifically gives you hope and what specifically do you find depressing?
HKC: What gives me hope is the fellow Artists I associate with. They are driven and constantly pushing the boundaries in performance. The state of politics in the United States, I find extremely depressing and unsettling.
JS: Finally, what do you yourself find to be the most intriguing and/or surprising thing about you?
HKC: I am surprised I have managed to hold onto my positive attitude and creative spirit. At times, it seems like it could be easier to just go through the motions. I really try to stay true to myself and just be me.