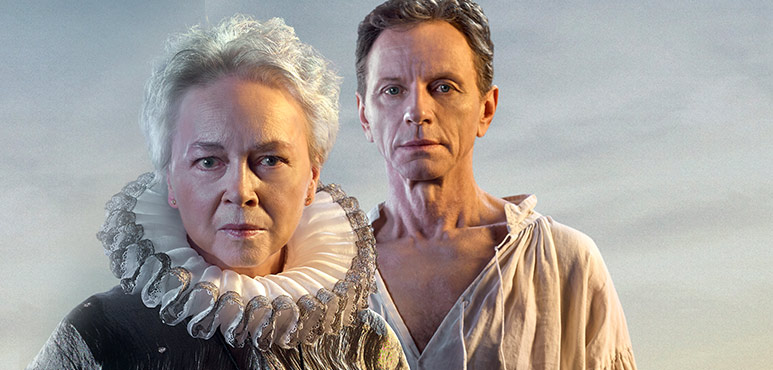 JAMES STRECKER: If you were asked for 50 words for an encyclopedia to summarize what you do, or have done, in the arts, what would you say?
MARTHA HENRY: Oh, good grief. "I work in the theatre."
JS: What important beliefs do you express in or through your work?
MH: James, dear, I don't think I can answer questions like this. I guess what I show or reveal is who I am. But I certainly don't think of my work that way (although I often admire people who do). I just try to tell the playwright's story of the play in as interesting and close-to-the-bone way as I possibly can.
JS: Name two people, living or dead, whom you admire a great deal and tell us why for each one.
MH: There are many. Douglas Rain: a man of complete and total integrity, who often (perhaps to his own and others' discomfort) "told it like it is". And who illuminated complex characters with the greatest, most breathtaking clarity I have ever witnessed on a stage.
Goldie Semple: an actress of incomparable beauty and talent – and wit! – who took care of other people far beyond her duty – and ultimately her capacity – to do so. The world was a richer place when she was in it.
JS: How have you changed since you began to do creative work?
MH: Well, I believe I began to do "creative work" (although I certainly would not have called it that) when I was 7 and spent the years before that looking for the place to DO that work. I didn't have a name for it then. Nor, I guess, do I now.
JS: What are your biggest challenges as a creative person?
MH: My health. Nothing wrong with my health – I'm incredibly lucky at my age – but without that we can't function.
JS: Please describe at least one major turning point in your life.
MH: Major Turning Point: when Powys Thomas said to me, "Well, why can't you?"
I was working at the Crest Theatre in Toronto under the artistic leadership of the great Murray Davis, who had formed a repertory company for the 1960-61 season. I was in every show (The Matchmaker, Macbeth, Under Milk Wood, Our Father's House, The Schoolmistress, The Seagull) and at the same time, Powys, who was in the company, was going across the country auditioning for a new theatre school under the leadership of Michel Saint-Denis. I thought this was wonderful and exciting and I regretted the fact that I had gone to a school for four years (Carnegie Tech in Pittsburgh) and therefore obviously would not be eligible or even considered for a school like this. Nor would I entertain the notion myself. When I communicated this to Powys ("I wish such a school had been available when I was looking for one. I'd have gone then. Too bad I can't now." (wink & smile) Powys replied, "Well, why can't you?" Which resulted in my not only going to Montreal in the fall of 1960 but becoming the first (literally) graduate of The National Theatre School of Canada when I got an offer from Stratford to play Miranda in The Tempest in 1962.
JS: What are the hardest things for an outsider to understand about what you do?
MH: I guess the most difficult thing for someone who is not in this business to understand is that it is a business, a vocation, a way of life. People tend to think of what we do as being peripheral, a lark, an "entertainment" – because that's what it is for them. If you work from 9 to 5, to think of people who work from 10AM to 11PM as being people who actually "work", is difficult and finally incomprehensible.
JS: How and why did you begin to do creative work in the first place?
MH: I got myself into the Brownie Scouts when I was 7 because they did a play.
JS: What haven't you attempted as yet that you would like to do and please tell us why?
MH: I always wanted to go and live in Jamaica and make it as a white singer. It never happened, partially because I was continually working – and partially because I can't really sing.
JS: What are your most meaningful achievements?
MH: This is another of those tricky questions. My most meaningful achievement was doing, when I was running the Grand in London, all three plays of Neil Simon's Brighton Beach Trilogy starting with Brighton Beach Memoirs, through Biloxi Blues, culminating in Broadway Bound. We produced these wonderful plays from my first year at The Grand (1987) through my last (1994) with the same cast, a Eugene (Eric Wolfe) who went from 14 in the first play to 21 in the last, complete with parents (Nicole Lipman and James Blendick) and an aunt (Debbie Kipp) and brother Marc. They were wonderful, all of them. I was extremely proud of them and of the shows. It seemed to me to signify a continuum, a lasting dedication to the elongated strain, the evolution, of the quality and thought behind what we were presenting – acknowledging that our audience was accompanying us on this journey.
JS: What advice would you give a young person who would like to do what you do?
MH: Well, of course, don't do it unless you HAVE to. It's too hard, otherwise.
JS: Of what value are critics?
MH: Some critics are useful to the artists, I think (Robert Cushman). Sometimes you can glean something from a knowledgeable reviewer that sticks and helps in the future. Too often the "critics" are most interested in establishing their own fame, their influence in a town, upon a community – their position of power.
JS: What do you ask of your audience?
MH: To come. Then it's up to us.
JS: What specifically would you change about what goes on in the world and the arts?
MH: Well, I guess more government support. There are theatres in Europe that can do astounding things – shows that take several years to come to fruition – because their governments believe they are crucial for the development and health of the country. This is not, of course, the North American attitude. We tend to feel that the arts are an inconsequential frill.
JS: If you could relive one experience from your creative life, what would it be and why would you do so?
MH: James, I don't believe that I would. The theatre is ephemeral and probably should be. You can't go back and relive something with any degree of validity because you are different than you were then. This is why it's so interesting to play a part more than once: you are a different human being, a different artist than you were then – and so the part becomes different, too.
JS: Tell us what it feels like to be a figure who is presented somehow in the media. What effect does this presence have on you?
MH: I don't have such pressure, James. I haven't been interviewed in years. I interact with members of the audience who are effusive and kind. I have little or no interaction with the media.
JS: Name two places you would like to visit, one you haven't been to and one to experience again and briefly tell us why
MH: I love Jamaica, have been there a few times and would live there, if I could make a living there. I have never been to Greece and would love to go and spend some time there. It really is the birthplace of what we do. (I learned a bit of Greek when I was in university – have lost most of it now…)
JS: Please tell us about one or more projects that you have been working on, are preparing, or have recently completed. Why do they matter to you and why should they matter to us?
MH: Ah, projects…..I have always wanted to direct Ibsen's The Wild Duck. Every time I find a Hedvig (the young daughter and the "owner" of the duck) I ask an artistic director if I can do it. They always say no. I think they believe no one will care, no one will come. And yet it's one of the most poignant and incisive stories about a family and the ability to care about something outside yourself that has ever been written.
I would love to do Tennessee Williams' Camino Real. I saw it when I was in university, directed by the legendary Bill Ball. It was spellbinding. Very few companies have the resources to do this play any longer. It would be a magical production on the Festival stage.
And of course, Clifford Odets' The Country Girl. I have the perfect cast in mind for this searing story of a marriage and a failed artist from a legendary playwright of the American theatre.
Finally, from our own canon: without a doubt, the great John Murrell's October – a story about Eleanora Duse and her friendship with Isadora Duncan. This fascinating, endlessly complex and alarming play has yet to have its definitive production. I would like to have the chance to try.
JS: Let's talk about the state of the arts in today's society, including the forms in which you work. What specifically gives you hope and what specifically do you find depressing?
MH: I suppose what depresses me (although I'm seldom depressed) and what inspires me are actually one and the same: I think the conundrum we're having at the moment about "diversity" and "colour-blind" casting (a term now considered offensive in certain circles) mean that we are moving toward a realization that our notions of casting, of white dominance in the theatre, are being not only challenged but blown to shreds and I'm pretty sure that it will not be long (although not in my lifetime) before those notions of "right" and "wrong" casting will be obsolete and we will have come to a realization of the fitness of things as reflected in the world in which we live……before the idea of someone with a darker skin playing a character previously meant to be of a lighter hue will seem so obsolete as to be laughable. The world itself is changing and the theatre is in the vanguard.
JS: Finally, what do you yourself find to be the most intriguing and/or surprising thing about you?
MH: Most intriguing, surprising thing about me? That I'm still here.