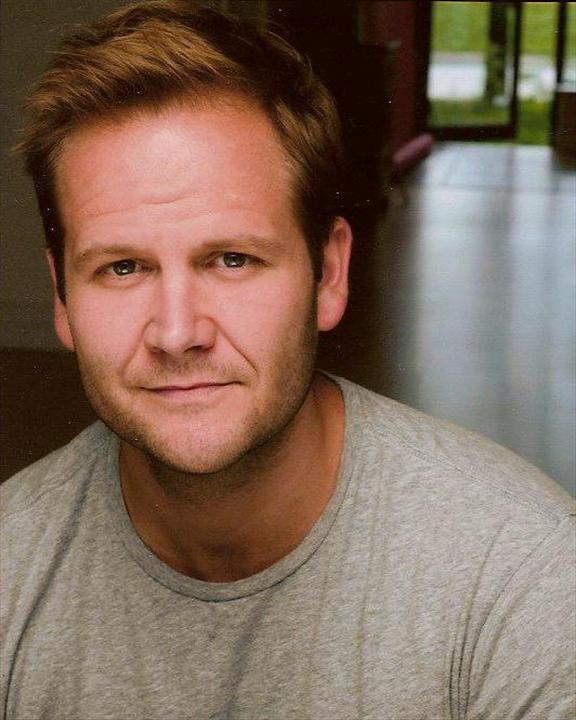 JAMES STRECKER: If you were asked for 50 words for an encyclopedia to summarize what you do, or have done, in the arts, what would you say?
EVAN BULIUNG: We​ ​gather​ ​together​ ​as​ ​a​ ​group​ ​of​ ​performers​ ​with​ ​generally​ ​low​ ​self-​esteem​ ​and work​ ​out​ ​the​ ​kinks​ ​in​ ​a​ ​windowless​ ​room. ​ ​We​ ​channel​ ​all​ ​that​ ​human​ ​nature​ ​has​ ​to offer​ ​from​ ​the​ ​darkest​ ​depravity​ ​to​ ​the​ ​freest​ ​joys…​ ​then​ ​spring​ ​it​ ​on​ ​people​ ​sitting​ ​in somewhat​ ​expensive​ ​and​ ​uncomfortable​ ​seats​ ​so​ ​they​ ​don't​ ​feel​ ​alone.
JS: What important beliefs do you express in or through your work?
EB: Most​ ​of​ ​the​ ​time​ ​I​ ​express​ ​the​ ​writer's​ ​beliefs, ​ ​but​ ​I​ ​guess​ ​through​ ​character​ ​I​ ​can find​ ​different​ ​shades​ ​to​ ​express. ​ ​I​ ​love​ ​finding​ ​a​ ​little​ ​nugget​ ​of​ ​character​ ​through interpretation​ ​of​ ​the​ ​words. For​ ​Mercutio​ ​to​ ​say​ ​to​ ​Benvolio​ ​for​ ​instance: "t'would​ ​anger​ ​him​ ​to​ ​raise​ ​a​ ​spirit​ ​in​ ​his​ ​mistress​ ​circle​ ​of​ ​some​ ​strange​ ​nature, there​ ​letting​ ​it​ ​stand​ ​till​ ​she​ ​hath​ ​laid​ ​it​ ​and​ ​conjured​ ​it​ ​down. ​ ​That​ ​were​ ​some​ ​spite." One​ ​could​ ​say​ ​that​ ​with​ ​a​ ​slight​ ​wink​ ​to​ ​the​ ​sexual​ ​context​ ​of​ ​the​ ​line, ​ ​OR, ​ ​as​ ​I​ ​found later​ ​in​ ​the​ ​run, ​ ​Mercutio​ ​can​ ​say​ ​it​ ​mockingly​ ​and​ ​bitter​ ​about​ ​Romeo's​ ​infatuation because​ ​of​ ​Mercutio's​ ​innate​ ​struggle​ ​himself. ​ ​ ​There's​ ​a​ ​million​ ​choices, ​ ​and​ ​they can​ ​change, ​ ​be​ ​open. ​ ​ ​If​ ​ANY​ ​of​ ​that​ ​makes​ ​any​ ​sense. I​ ​like​ ​to​ ​think​ ​through​ ​character​ ​examination​ ​that​ ​there's​ ​a​ ​bit​ ​of​ ​good​ ​in​ ​all​ ​of​ ​us​ ​and a​ ​bit​ ​of​ ​bad…. ​ ​though​ ​the​ ​scale​ ​slides​ ​from​ ​time​ ​to​ ​time.
JS: Name two people, living or dead, whom you admire a great deal and tell us why for each one.
EB: Brent​ ​Carver-There​ ​isn't​ ​a​ ​performer​ ​alive​ ​that​ ​I've​ ​seen​ ​who​ ​is​ ​completely​ ​open​ ​to inspiration, ​ ​the​ ​dove​ ​always​ ​drops​ ​with​ ​him. ​ ​ (Bernie​ ​Hopkins​ ​used​ ​to​ ​drop​ ​this expression, ​ ​I​ ​always​ ​pretended​ ​to​ ​know​ ​what​ ​it​ ​meant)
Bernie​ ​Sanders-Tenacity, ​ ​compassion, ​ ​truth, ​ ​integrity, ​ ​humility.
JS: How have you changed since you began to do creative work?
EB: I​ ​guess​ ​I've​ ​always​ ​done​ ​this. ​ ​I​ ​wanted​ ​to​ ​be​ ​an​ ​actor​ ​from​ ​a​ ​very​ ​young​ ​age​ ​so​ ​I've known​ ​nothing​ ​else. ​ ​I​ ​never​ ​had​ ​any​ ​desire​ ​to​ ​be​ ​a​ ​lawyer​ ​or​ ​banker​ ​or​ ​fireman, ​ ​all very​ ​honourable​ ​work​ ​of​ ​course. ​ ​ ​So​ ​my​ ​change​ ​has​ ​been​ ​within​ ​the​ ​work​ ​I​ ​suppose. I​ ​never​ ​desired​ ​to​ ​attain​ ​anything​ ​other​ ​than​ ​work​ ​in​ ​this​ ​craft​. ​ ​I​ ​have​ ​the​ ​utmost respect​ ​for​ ​writers​ ​and​ ​feel​ ​our​ ​only​ ​job​ ​as​ ​actors​ ​is​ ​to​ ​mine​ ​their​ ​work​ ​for​ ​all​ ​its depths​ ​and​ ​work​ ​together​ ​as​ ​actors​ ​to​ ​achieve​ ​that​ ​goal.
JS: What are your biggest challenges as a creative person?
EB: Moodiness, ​ ​addiction, ​ ​self-righteousness, ​ ​abject​ ​liberalism, ​ ​distrust​ ​of​ ​anything artless, ​ ​memorizing, ​ ​soaking​ ​up​ ​energies.
JS: Please describe at least one major turning point in your life.
EB: I​ ​received​ ​the​ ​Richard​ ​Monette​ ​travel​ ​grant​ ​7​ ​years​ ​back​ ​and​ ​travelled​ ​Europe​ ​by myself​ ​for​ ​a​ ​number​ ​of​ ​months,​ ​it's​ ​something​ ​I​ ​should've​ ​done​ ​much​ ​sooner​ ​in​ ​my life​ ​but​ ​you're​ ​ready​ ​when​ ​you're​ ​ready​ ​to​ ​be​ ​on​ ​your​ ​own​ ​in​ ​a​ ​strange​ ​place​ ​with only​ ​meager​ ​English​ ​to​ ​get​ ​you​ ​by.​ ​I​ ​had​ ​just​ ​got​ ​sober​ ​recently​ ​too​ ​for,​ ​a​ ​day​ ​at​ ​a time,​ ​the​ ​final​ ​time​ ​after​ ​many​ ​years​ ​of​ ​trying.​ ​I​ ​remember​ ​standing​ ​on​ ​a​ ​rock​ ​in Greece​ ​a​ ​few​ ​months​ ​into​ ​the​ ​trip​ ​staring​ ​out​ ​into​ ​the​ ​ocean​ ​for​ ​a​ ​couple​ ​hours​ ​and​ ​I felt​ ​completely​ ​fine​ ​with​ ​myself,​ ​I​ ​was​ ​able​ ​to​ ​be​ ​by​ ​myself​ ​without​ ​distraction​ ​or something​ ​to​ ​quiet​ ​my​ ​mind.​ ​Serenity.​ ​Of​ ​course​ ​these​ ​things​ ​are​ ​fleeting​, ​but​ ​I finally​ ​felt​ ​at​ ​home​ ​in​ ​my​ ​skin.
JS: What are the hardest things for an outsider to understand about what you do?
EB: I'm​ ​not​ ​sure. ​ ​I'm​ ​not​ ​an​ ​outsider. ​ ​They'd​ ​have​ ​to​ ​tell​ ​you​ ​that​ ​one.
JS: How and why did you begin to do creative work in the first place?
EB: I​ ​was​ ​five​ ​when​ ​I​ ​realized​ ​what​ ​I​ ​wanted​ ​to​ ​do.​ ​ ​I​ ​imagine​ ​my​ ​folks,​ ​who​ ​have​ ​always been​ ​extremely​ ​supportive,​ ​for​ ​which​ ​I'm​ ​very​ ​lucky​ ​and​ ​very​ ​grateful,​ ​They​ ​most likely​ ​took​ ​me​ ​to​ ​too​ ​many​ ​plays​ ​and​ ​performances​ ​when​ ​I​ ​was​ ​a​ ​child.​ ​ ​My​ ​deep insecurity​ ​as​ ​a​ ​child​,​ ​as​ ​well​ ​as,​ ​no​ ​doubt,​ ​seasonal​ ​depression​ ​and​ ​a​ ​constant aloneness​ ​fit​ ​the​ ​bill​ ​to​ ​want​ ​to​ ​pretend​ ​to​ ​be​ ​someone​ ​else.​ ​It​ ​saved​ ​me​ ​for​ ​a​ ​time​ ​by boosting​ ​my​ ​confidence​ ​and​ ​giving​ ​me​ ​direction.​ ​I​ ​was​ ​lucky​ ​to​ ​grow​ ​up​ ​in​ ​a​ ​time when​ ​theatre​ ​and​ ​arts​ ​were​ ​far​ ​more​ ​ingrained​ ​in​ ​the​ ​school​ ​system​ ​than​ ​perhaps they​ ​are​ ​now​ ​with​ ​budget​ ​cuts​ ​and​ ​eradication​ ​of​ ​arts​ ​programs​ ​entirely.
JS: What haven't you attempted as yet that you would like to do and please tell us why?
EB: Abs.​ ​Cause​ ​they​ ​look​ ​impressive.​ ​Artistically​ ​though,​ ​I'm​ ​satiated,​ ​I've​ ​learned​ ​so much​ ​about​ ​myself​ ​and​ ​others​ ​around​ ​me​ ​so​ ​now​ ​I'd​ ​like​ ​to​ ​pass​ ​that​ ​on​ ​to​ ​younger folks​ ​trying​ ​it​ ​out.​ ​ ​Not​ ​that​ ​I​ ​don't​ ​have​ ​more​ ​to​ ​learn,​ ​there's​ ​always​ ​more​ ​to​ ​learn​ ​if you're​ ​open​ ​to​ ​it,​ ​but​ ​I​ ​was​ ​graced​ ​with​ ​wonderful​ ​teachers,​ ​I'd​ ​like​ ​to​ ​help newcomers​ ​to​ ​find​ ​their​ ​own​ ​freedom​ ​on​ ​the​ ​stage.​ ​Whether​ ​a​ ​student​ ​continues​ ​in the​ ​arts​ ​or​ ​not,​ ​the​ ​skills​ ​learned​ ​and​ ​confidence​ ​gained​ ​by​ ​a​ ​healthy​ ​exploration​ ​of artistic​ ​goals​ ​is​ ​invaluable​ ​in​ ​any​ ​workplace.​ ​Most​ ​jobs​ ​could​ ​be​ ​considered​ ​an​ ​art form.
JS: What are your most meaningful achievements?
EB: Surviving​ ​Lord​ ​of​ ​the​ ​Rings​ ​the​ ​Musical​ ​(barely). ​ ​ ​Besides​ ​that, ​ ​getting​ ​sober. ​ ​On the​ ​stage​ ​I'd​ ​say​ ​figuring​ ​out​ ​Edgar​ ​in​ ​King​ ​Lear​ ​after​ ​doing​ ​it​ ​twice, ​ ​delving​ ​into Stanhope​ ​in​ ​Journey's​ ​End​ ​at​ ​Shaw, ​ ​Stanhope's​ ​alcohol-​fuelled​ ​survival​ ​I​ ​was​ ​able to​ ​tap​ ​into, ​ ​allowing​ ​myself​ ​to​ ​dig​ ​into​ ​my​ ​own​ ​experience​ ​with​ ​addiction.
JS: What advice would you give a young person who would like to do what you do?
EB: I​ ​always​ ​had​ ​an​ ​image​ ​in​ ​my​ ​head​ ​growing​ ​up​ ​and​ ​through​ ​my​ ​adolescence​ ​of​ ​a​ ​pilot light​ ​inside​ ​of​ ​me,​ ​through​ ​the​ ​fear​ ​and​ ​misery​ ​and​ ​damage​ ​and​ ​pain.​ ​That​ ​light​ ​was my​ ​ability,​ ​talent,​ ​desire​ ​and​ ​will​ ​to​ ​do​ ​this​ ​work,​ ​my​ ​confidence​ ​in​ ​my​ ​own​ ​abilities and​ ​nothing​ ​would​ ​extinguish​ ​it…I'm​ ​lucky​ ​I​ ​didn't​ ​overdose​ ​though,​ ​cause​ ​imagery wouldn't​ ​help​ ​that.​ ​I'm​ ​lucky,​ ​I've​ ​lost​ ​amazing​ ​friends​ ​to​ ​it​ ​and​ ​it​ ​is​ ​a​ ​reminder​ ​to myself​ ​and​ ​others​ ​to​ ​stay​ ​on​ ​the​ ​beam. Truly​ ​drugs​ ​don't​ ​add​ ​to​ ​your​ ​work,​ ​they simply​ ​stall​ ​your​ ​growth​ ​both​ ​artistically​ ​and​ ​spiritually…at​ ​least​ ​in​ ​my​ ​experience.
JS: Of what value are critics?
EB: I​ ​wrestle​ ​with​ ​this,​ ​definitely.​ ​ ​I​ ​grew​ ​up​ ​in​ ​a​ ​theatre​ ​world​ ​where​ ​we​ ​didn't​ ​talk​ ​about and​ ​certainly​ ​didn't​ ​bring​ ​reviews​ ​into​ ​the​ ​theatre.​ ​The​ ​world​ ​now,​ ​and​ ​producers specifically,​ ​somewhat​ ​rely​ ​on​ ​reviews​ ​to​ ​sell​ ​tickets.​ ​ ​But​ ​they​ ​have​ ​an​ ​effect​ ​on performers​ ​to​ ​varying​ ​degrees.​ ​ ​So​ ​I​ ​kinda​ ​see​ ​it​ ​as​ ​an​ ​interesting​ ​sidebar​ ​to​ ​what​ ​we do.​ ​The​ ​difficulty​ ​is​ ​that​ ​theatre​ ​is​ ​not​ ​mounted​ ​on​ ​a​ ​wall,​ ​it​ ​is​ ​a​ ​living​ ​breathing organism​ ​that​ ​changes​ ​from​ ​show​ ​to​ ​show,​ ​so​ ​to​ ​base​ ​critiques​ ​on​ ​one​ ​show​ ​is moot.​ ​I​ ​would​ ​hope​ ​most​ ​good​ ​reviewers​ ​would​ ​know​ ​and​ ​appreciate​ ​this​ ​and perhaps​ ​just​ ​note​ ​the​ ​form​ ​and​ ​structure​ ​of​ ​the​ ​piece.​ ​But​ ​then​ ​I'm​ ​not​ ​a​ ​reviewer, except​ ​an​ ​amateur​ ​one​ ​on​ ​Facebook​ ​from​ ​time​ ​to​ ​time.
JS: What do you ask of your audience?
EB: It's​ ​interesting​ ​this, ​ ​sometimes​ ​theatres​ ​in​ ​their​ ​pre-​announcements​ ​tell​ ​the​ ​audience to​ ​sit​ ​back​ ​and​ ​enjoy​ ​the​ ​show, ​ ​I​ ​like​ ​to​ ​think​ ​their​ ​job​ ​is​ ​more​ ​engaging​ ​than​ ​that. ​ ​I say​ ​sit​ ​forward​ ​and​ ​listen, ​ ​of​ ​course​ ​this​ ​depends​ ​on​ ​the​ ​comfortability​ ​of​ ​the​ ​chairs. I​ ​like​ ​to​ ​think​ ​that​ ​I​ ​don't​ ​shy​ ​away​ ​from​ ​the​ ​dark​ ​side​ ​of​ ​character​ ​on​ ​stage​ ​but​ ​I​ ​love a​ ​good​ ​transformative​ ​storyline​ ​"start​ ​out​ ​bad​ ​and​ ​learn​ ​something​ ​and​ ​bingo"​ ​kinda guy.​ ​ ​I​ ​love​ ​comedy,​ ​I​ ​did​ ​a​ ​lot​ ​of​ ​it​ ​at​ ​Shaw.​ ​I​ ​grew​ ​up​ ​on​ ​Monty​ ​Python​ ​and​ ​dry English​ ​wit​ ​is​ ​by​ ​far​ ​my​ ​favourite​ ​thing​ ​to​ ​do.​ ​Shaping​ ​and​ ​moulding​ ​timing​ ​on​ ​stage and​ ​using​ ​the​ ​audience​ ​as​ ​metronome​ ​to​ ​this​ ​practice.​ ​I​ ​remember​ ​playing​ ​Jack​ ​in Earnest​ ​at​ ​Shaw​ ​years​ ​ago​ ​and​ ​we​ ​did​ ​something​ ​like​ ​138​ ​of​ ​them.​ ​It​ ​was​ ​utter insanity.​ ​ ​It​ ​is​ ​a​ ​perfect​ ​comedy​ ​if​ ​not​ ​THE​ ​perfect​ ​comedy​ ​and​ ​it​ ​drove​ ​me​ ​mental trying​ ​to​ ​perfect​ ​its​ ​quick​ ​barbs​ ​and​ ​slow​ ​turns​ ​and​ ​grand​ ​entrances​ ​and​ ​muffin fights.​ ​ ​I​ ​loved​ ​it​, ​but​ ​for​ ​my​ ​perfectionist​ ​mind​ ​(much​ ​more​ ​so​ ​when​ ​I​ ​was​ ​younger)​ ​it drove​ ​me​ ​and​ ​most​ ​like​ly​ ​those​ ​around​ ​me​ ​mental.
JS: What specifically would you change about what goes on in the world and the arts?
EB: I​ ​think​ ​that's​ ​happening​ ​without​ ​my​ ​wishes.​ ​There​ ​seems​ ​to​ ​be​ ​an​ ​action/reaction thing​ ​happening​ ​in​ ​the​ ​world​ ​right​ ​now​ ​as​ ​it​ ​tries​ ​to​ ​right​ ​itself.​ ​The​ ​Trump​ ​effect​ ​has brought​ ​so​ ​much​ ​out​ ​into​ ​the​ ​light,​ ​a​ ​lot​ ​of​ ​it​ ​is​ ​really​ ​ugly.​ ​But​ ​the​ ​light​ ​heals​ ​or​ ​so I'd​ ​like​ ​to​ ​think.​ ​ ​Oh,​ ​and​ ​the​ ​world​ ​is​ ​melting,​ ​let's​ ​not​ ​forget​ ​that.​ ​In​ ​the​ ​arts​ ​I​ ​would ask​ ​our​ ​government​ ​to​ ​invest​ ​in​ ​more​ ​arts​ ​space,​ ​arts​ ​education,​ ​arts​ ​cultivation​ ​and a​ ​reverse​ ​artistic​ ​brain​ ​drain​ ​from​ ​the​ ​states.​ ​ ​Instead​ ​it​ ​seems​ ​like​ ​we​ ​are​ ​slowly allowing​ ​these​ ​things​ ​to​ ​fall​ ​to​ ​the​ ​wayside​ ​for​ ​more​ ​tech-​ ​based​ ​growth​ ​and​ ​fostering the​ ​financial​ ​sector.​ ​ ​There​ ​are​ ​great​ ​artists​ ​in​ ​this​ ​country​ ​that​ ​fight​ ​constantly​ ​to keep​ ​things​ ​"Canadian"​ ​to​ ​keep​ ​crews​ ​Canadian​ ​and​ ​more​ ​artists​ ​on​ ​set​ ​Canadian but​ ​it​ ​seems​ ​to​ ​be​ ​a​ ​huge​ ​struggle​ ​to​ ​convince​ ​our​ ​unions​ ​and​ ​government otherwise.​ ​We​ ​have​ ​great​ ​stories​ ​to​ ​tell​ ​in​ ​this​ ​country​ ​and​ ​one​ ​of​ ​the​ ​great​ ​things I've​ ​seen​ ​is​ ​there​ ​are​ ​more​ ​and​ ​more​ ​diverse​ ​stories​ ​that​ ​cover​ ​a​ ​wide​ ​range​ ​of Canadian​ ​stories​ ​from​ ​Indigenous​ ​stories​ ​to​ ​Korean​ ​to​ ​East​ ​Indian. That's​ ​exciting and​ ​vital​ ​for​ ​not​ ​only​ ​entertainment​ ​and​ ​a​ ​good​ ​story​ ​to​ ​tell,​ ​but​ ​also​ ​vital​ ​for audiences​ ​to​ ​be​ ​challenged​ ​and​ ​new​ ​audiences​ ​to​ ​be​ ​found​ ​and​ ​cultivated.
JS: If you could relive one experience from your creative life, what would it be and why would you do so?
EB: To​ ​me​ ​this​ ​sounds​ ​like​ ​either​ ​an​ ​enlightening​ ​experience​ ​to​ ​relive​ ​or​ ​something​ ​I'd like​ ​to​ ​change​ ​through​ ​regret. I​ ​will​ ​start​ ​with​ ​regret​ ​- ​ ​ ​ ​ ​ ​ ​I​ ​would​ ​relive​ ​parts​ ​of​ ​The​ ​Lord​ ​of​ ​the​ ​Rings​ ​musical.​ ​ ​I​ ​was​ ​younger​ ​of​ ​course and​ ​hindsight​ ​is​ ​20/20​ ​but​ ​I​ ​would​ ​choose​ ​to​ ​come​ ​at​ ​that​ ​differently,​ ​I​ ​would've​ ​put my​ ​foot​ ​down​ ​and​ ​refused​ ​some​ ​of​ ​what​ ​was​ ​asked.​ ​ ​I​ ​would've​ ​practiced​ ​much more​ ​self-care​ ​and​ ​taken​ ​care​ ​of​ ​those​ ​around​ ​me​ ​better.​ ​ ​I​ ​took​ ​too​ ​much​ ​on​ ​and​ ​it damaged​ ​me,​ ​I​ ​don't​ ​think​ ​I've​ ​ever​ ​fully​ ​recovered​ ​from​ ​that​ ​experience.​ ​ ​I​ ​shudder when​ ​I​ ​think​ ​of​ ​what​ ​I​ ​became​ ​on​ ​that​ ​show​ ​and​ ​for​ ​some​ ​time​ ​afterwards.​ ​Perhaps playing​ ​Aragorn​ ​and​ ​investing​ ​in​ ​the​ ​character,​ ​I​ ​tried​ ​to​ ​fight​ ​the​ ​battle​ ​but​ ​it​ ​was​ ​a losing​ ​fight​ ​and​ ​it​ ​cost​ ​me.​ ​ ​I​ ​would​ ​sometimes​ ​have​ ​panic​ ​attacks​ ​right​ ​before​ ​the show​ ​and​ ​have​ ​to​ ​call​ ​out​ ​when​ ​I​ ​played​ ​through​ ​my​ ​head​ ​the​ ​dangers​ ​that​ ​lay​ ​ahead on​ ​the​ ​stage,​ ​from​ ​a​ ​purely​ ​technical​ ​standpoint.​ ​ ​I​ ​was​ ​overjoyed​ ​to​ ​get​ ​to​ ​be​ ​in​ ​the show​ ​at​ ​the​ ​beginning​ ​and​ ​then​ ​it​ ​turned​ ​into​ ​a​ ​very​ ​difficult​ ​time.​ ​There​ ​were stretches​ ​of​ ​time​ ​for​ ​weeks​ ​when​ ​we​ ​didn't​ ​have​ ​a​ ​day​ ​off.​ ​ ​We​ ​worked​ ​gruelling almost​ ​Olympic​ ​hours​ ​with​ ​projectiles​ ​being​ ​flung​ ​at​ ​us​ ​on​ ​the​ ​darkly​ ​lit​ ​stage.​ ​ ​As​ ​a cast​ ​we​ ​stood​ ​up​ ​for​ ​each​ ​other,​ ​we​ ​helped​ ​each​ ​other.​ ​But​ ​I​ ​was​ ​overwrought​ ​and beaten​ ​down​ ​by​ ​its​ ​size​ ​and​ ​scope.​ ​ ​We​ ​begged​ ​Equity​ ​at​ ​one​ ​point​ ​to​ ​help​ ​us,​ ​but little​ ​was​ ​done.​ ​ ​It​ ​was​ ​a​ ​joke. And​ ​so​ ​for​ ​me​ ​personally,​ ​I​ ​fell​ ​apart.​ ​ ​I​ ​wasn't​ ​able​ ​to​ ​recharge​ ​and​ ​I​ ​took​ ​out​ ​my frustration​ ​on​ ​myself​ ​and​ ​others.​ ​ ​When​ ​the​ ​show​ ​closed​ ​I​ ​didn't​ ​leave​ ​my​ ​apartment for​ ​a​ ​long​ ​time.​ ​ ​I​ ​could​ ​write​ ​for​ ​days​ ​on​ ​this​ ​experience​, ​but​ ​maybe​ ​I'll​ ​save​ ​it​ ​for​ ​my one​ ​man​ ​show​ ​"Smolkin​ ​the​ ​Tolkien"…​ ​it's​ ​still​ ​in​ ​rewrites.​ ​ ​Including​ ​the​ ​title. The​ ​experience, ​ ​though, ​ ​did​ ​teach​ ​me​ ​to​ ​give​ ​my​ ​heart​ ​to​ ​a​ ​show​ ​but​ ​not​ ​my​ ​soul. To​ ​re-live​ – ​cause​ ​it​ ​was​ ​a​ ​great​ ​experience​ ​- ​ ​​Art​ ​with​ ​Peter​ ​Donaldson​ ​and​ ​Colin​ ​Mochrie. ​ ​It​ ​was​ ​just​ ​pure​ ​joy​ ​and​ ​laughs​ ​from beginning​ ​to​ ​end. ​ ​I​ ​was​ ​very​ ​honoured​ ​to​ ​work​ ​with​ ​both​ ​of​ ​those​ ​giants​ ​and​ ​I'm pretty​ ​sure​ ​they​ ​realized​ ​how​ ​much​ ​they​ ​had​ ​to​ ​learn​ ​from​ ​me. ​ ​About​ ​comedy. Especially​ ​Colin. ​ ​His​ ​career​ ​really​ ​took​ ​off​ ​after​ ​that.
JS: Tell us what it feels like to be a figure who is presented somehow in the media. What effect does this presence have on you?
EB: I​ ​am​ ​uneasy​ ​with​ ​it​ ​for​ ​the​ ​most​ ​part​ ​but​ ​thankfully​ ​I​ ​live​ ​in​ ​Canada​ ​and​ ​nobody knows​ ​who​ ​I​ ​am​ ​because​ ​we​ ​are​ ​Borg. ​ ​ ​The​ ​Mr.​ ​Hyde​ ​in​ ​me​ ​can​ ​relish​ ​in​ ​a​ ​good notice​ ​or​ ​well-​timed​ ​photo​ ​like​ ​anyone​ ​else,​ ​but​ ​truly​ ​I'm​ ​just​ ​doing​ ​it​ ​because​ ​it's​ ​all I've​ ​known​ ​ (without​ ​sounding​ ​too​ ​precious).
JS: Name two places you would like to visit, one you haven't been to and one to experience again and briefly tell us why.
EB: Japan -cause​ ​it​ ​looks​ ​just​ ​insane​ ​and​ ​beyond​ ​beautiful​ ​at​ ​the​ ​same​ ​time Firenze (Florence) -cause​ ​I​ ​don't​ ​know​ ​if​ ​there's​ ​a​ ​more​ ​invigorating​ ​and​ ​inspiring place​ ​on​ ​earth…plus, ​ ​food.
JS: Please tell us about one or more projects that you have been working on, are preparing, or have recently completed. Why do they matter to you and why should they matter to us?
EB: Upcoming​ ​in​ ​the​ ​new​ ​year​ ​I'm​ ​playing​ ​Bruce​ ​Bechdel​ ​in​ ​FUN​ ​HOME​ ​for​ ​The​ ​Musical Stage​ ​Company/Mirvish​ ​at​ ​the​ ​newly​ ​minted​ ​CAA​ ​Theatre​ ​on​ ​Yonge​ ​street​ ​(I'm calling​ ​it​ ​the​ ​Canadian​ ​Arts​ ​Arena).​ ​It's​ ​an​ ​amazing​ ​musical​ ​that​ ​won​ ​5​ ​Tonys​ ​a​ ​few years​ ​back.​ ​ ​Based​ ​on​ ​the​ ​graphic​ ​novel​ ​by​ ​Alison​ ​Bechdel,​ ​it's​ ​a​ ​beautiful​ ​and heartbreaking​ ​show​ ​written​ ​by​ ​Jeanine​ ​Tesori​ ​and​ ​Lisa​ ​Kron.​ ​ ​It's​ ​about​ ​families​ ​and the​ ​secrets​ ​that​ ​can​ ​be​ ​kept​ ​and​ ​that​ ​can​ ​ultimately​ ​destroy​ ​us​ ​and​ ​perhaps​ ​recreate us​ ​at​ ​the​ ​same​ ​time.​ ​ ​With​ ​an​ ​incredible​ ​score​ ​and​ ​amazing​ ​cast​ ​I'm​ ​fortunate enough​ ​to​ ​work​ ​with,​ ​I​ ​couldn't​ ​be​ ​more​ ​excited/terrified.
JS: Let's talk about the state of the arts in today's society, including the forms in which you work. What specifically gives you hope and what specifically do you find depressing?
EB: What​ ​gives​ ​me​ ​hope​ ​is​ ​that​ ​we​ ​are​ ​telling​ ​new​ ​stories​ ​as​ ​well​ ​as​ ​infusing​ ​old​ ​stories with​ ​new​ ​voices.​ ​Voices​ ​that​ ​haven't​ ​been​ ​given​ ​as​ ​much​ ​chance​ ​to​ ​be​ ​used​ ​in​ ​these tellings.​ ​ ​When​ ​I​ ​came​ ​into​ ​this​ ​business,​ ​there​ ​were​ ​still​ ​many​ ​British​ ​expats​ ​running things​ ​and​ ​telling​ ​British​ ​tales,​ ​even​ ​on​ ​Lord​ ​of​ ​the​ ​Rings​ ​we​ ​were​ ​told​ ​many​ ​times that​ ​England​ ​was​ ​its​ ​spiritual​ ​homeland.​ ​Canada​ ​is​ ​exploring​ ​its​ ​own​ ​voice​ ​and​ ​it's​ ​a hugely​ ​diverse​ ​voice.​ ​ ​It​ ​is​ ​thrilling​ ​to​ ​see​ ​women​ ​playing​ ​men​'s​ ​parts​ ​and​ ​I​ ​think once​ ​the​ ​ball​ ​gets​ ​rolling​ ​with​ ​this​ ​type​ ​of​ ​casting,​ ​it​ ​can't​ ​be​ ​rolled​ ​back​ ​nor​ ​should it. What​ ​I​ ​find​ ​depressing​ ​is​ ​that​ ​there​ ​seems​ ​to​ ​be​ ​no​ ​delineation​ ​between​ ​artists​ ​and any​ ​other​ ​sector​ ​in​ ​terms​ ​of​ ​funding​ ​or​ ​taxation.​ ​In​ ​Ireland​ ​the​ ​first​ ​50,000​ ​of​ ​income gained​ ​by​ ​artists​ ​in​ ​all​ ​fields​ ​is​ ​exempt​ ​from​ ​tax.​ ​ ​They​ ​cultivate​ ​and​ ​nurture​ ​their artists​ ​and​ ​the​ ​work​ ​shows.​ ​ ​Actors​ ​in​ ​this​ ​country​ ​can't​ ​even​ ​claim​ ​unemployment insurance​ ​where​ ​they​ ​can​ ​in​ ​the​ ​USA.​ ​I'm​ ​not​ ​saying​ ​that​ ​there​ ​aren't​ ​many​ ​grants​ ​to apply​ ​for​ ​and​ ​they​ ​ARE​ ​applied​ ​for​ ​but​ ​self-employed​ ​artists​ ​should​ ​be​ ​treated​ ​as who​ ​they​ ​are,​ ​channels​ ​to​ ​the​ ​truth.​ ​Com
Comedians​ ​are,​ ​once​ ​again​ ​the​ ​truth​ ​speakers, artists​ ​are​ ​the​ ​balancers​ ​and​ ​the​ ​awareness​ ​makers,​ ​the​ ​enlighteners.​ ​ ​We​ ​don't make​ ​enough​ ​money​ ​to​ ​require​ ​us​ ​saving​ ​the​ ​government​ ​coffers​ ​from​ ​ruin.​ ​ ​I​ ​do understand​ ​though​ ​that​ ​we​ ​have​ ​a​ ​smaller​ ​population​ ​than​ ​some​ ​countries​ ​so​ ​we must​ ​all​ ​pull​ ​our​ ​weight,​ ​I'm​ ​just​ ​curious​ ​whether​ ​there's​ ​a​ ​better​ ​way​ ​to​ ​keep​ ​artists from​ ​starving​ ​or​ ​ultimately​ ​flying​ ​the​ ​coop.
JS: Finally, what do you yourself find to be the most intriguing and/or surprising thing about you?
EB: Most​ ​intriguing​ ​thing​ ​about​ ​me? ​ ​I​ ​think​ ​I'm​ ​rather​ ​unspectacular​ ​actually, ​ ​fairly simple​ ​and​ ​a​ ​small​ ​town​ ​boy​ ​living​ ​in​ ​the​ ​city. ​ ​ ​I​ ​was​ ​born​ ​with​ ​a​ ​love​ ​for​ ​acting​ ​and some​ ​skills​ ​and​ ​an​ ​innate​ ​ability​ ​to​ ​tear​ ​myself​ ​apart​ ​and​ ​put​ ​it​ ​back​ ​together​ ​again. Surprising​ ​thing? ​ ​Maybe​ ​not​ ​so​ ​surprising,​ ​but​ ​I'm​ ​actually​ ​very​ ​shy​ ​and​ ​have​ ​terribly low​ ​self-esteem​ ​sometimes, ​ and ​that​ ​combined​ ​with​ ​a​ ​healthy​ ​ego​ ​makes​ ​for​ ​a​ ​busy time upstairs.