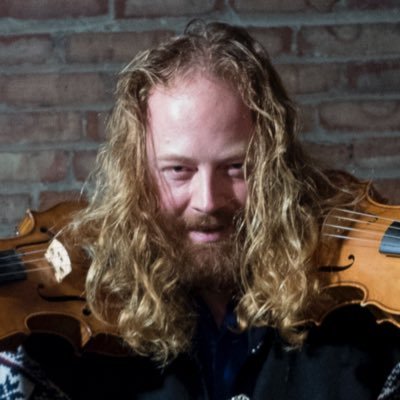 JAMES STRECKER: If you were asked for 50 words for an encyclopedia to summarize what you do, or have done, in the arts, what would you say?
EDWIN HUIZINGA: With the help of my friends, I find myself constantly creating ways to spread the joy and love of classical, baroque, folk, and rock music around the world. Through the communities I work with – from directing kids' summer music camps to composition to performance – I am constantly finding new and different ways to share the music that I love most with the people around me. Teaching is a huge part of my life, from coaching baroque ensembles, to giving fiddle lessons to young children. Our future is in the hands of the young people around us and giving them the opportunity to learn how to communicate and share their passions and love is beautiful. They are our hope!
JS: What important beliefs do you express in or through your work?
EH: The language of music is desperately needed in our society because it helps to ignite child-like wonder into our lives. Music connects us to our emotions, our soul, and our passion. Also, I really believe in the communication it takes to 'talk' to our fellow musicians, and our audience. The story that we all try to tell as artists, to get that across to an audience is no easy feat. However, if it happens then all of a sudden the audience become participants and the journey becomes greater than the sum of its parts.
JS: Name two people, living or dead, whom you admire a great deal and tell us why for each one.
EH: My mother, who sat with me every morning on the farm where I grew up, on a wicker chair, listening and guiding me through learning how to play violin. She really showed me how music could make another person actually feel. Mark Fewer, my teacher who I studied with at the Royal Conservatory of Music in Toronto. Mark's playing and incredible ingenuity in playing the violin is what got me through high school and made me love the violin and music so much so that I had no choice but to turn it into my career and my life.
JS: How have you changed since you began to do creative work?
EH: When I was a child, just starting to play the violin, I was incredibly introverted, shy and quiet. As I became more and more serious about the violin, and after I would run offstage from trying to perform in public a few times, I started understanding the opportunity you have as an artist, a story teller, and I would start performing in a way that I could share how I really felt, and started becoming a much more open person, at least on the outside. I would say I'm an extroverted introvert.
JS: What are your biggest challenges as a creative person?
EH: I would say my biggest challenges as a creative person would be not letting the world around me get me off course. I find myself getting incredibly affected by all of my surroundings, and often feel that I'm not doing enough. Enough for the environment, for people's health, for the future of our children. Also, making sure I am happy with the path that I'm following, really working towards something that I absolutely cannot live without.
JS: Please describe at least one major turning point in your life.
EH: One major turning point in my life was when I got hired to perform at the Carmel Bach Festival for the first time, 12 years ago. I was still in school, about to finish an undergraduate degree from Oberlin Conservatory. This was a moment for me when I really felt like being a professional musician was possible. Working alongside some of my mentors and performing over 20 concerts during the month of July every summer was a big part in my development as an artist. This summer I will be returning for a second summer in a row as a guest director for one of the main stage programs focusing on the evolution of American Folk and its relationship to Baroque music.
JS: What are the hardest things for an outsider to understand about what you do?
EH: I believe that one of the hardest things to explain to an outsider about the life of an artist, especially a performing artist, is how much emotional energy it takes out of you to perform, and then alternatively, how much time and effort goes into just one single performance, let alone if you do a hundred. I find especially the morning after a big performance I sometimes find myself very low energy, and sometimes it just takes a while to regroup and get back to normal, but as I don't really understand this process myself, how do you explain it?
JS: How and why did you begin to do creative work in the first place?
EH: My mother, Mieke, is the reason I play violin. Having a very supportive family growing up is definitely what sent me on this path towards being an artist. The journey along the way just kept reaffirming that I should keep doing what I'm doing because being creative gives me the opportunity to make another person's life better, or more beautiful, or different, for even just one instant, and that is such an amazing gift.
JS: What haven't you attempted as yet that you would like to do and please tell us why?
EH: I have not yet recorded a solo album, or maybe I should be more clear and say that I have not yet finished recording a solo album. I have been working on one for almost two years now, and have been struggling with whether or not it's good enough for me to share. As an artist, you constantly battle with your self as to whether or not something is good enough, and I think when it comes to solo projects especially that you hope to put out into the world, it makes for what feels like big decisions to finally stop working and release the recordings that you have made.
I have not attempted to write an Opera yet, but I would really like to. I love bringing different art forms together, and the story you can tell with music, dance, song, staging, and words is just one of the most interesting concepts to me. I would really like to find a way to bring the importance of everyone's choices and decisions into an opera, one really advocating that we can all make a difference in any small way.
JS: What are your most meaningful achievements?
EH: Getting out into the community for me is one of the most important things I feel like I do with music. Being a founding member of the Classical Revolution, and striving to create new, exciting. Different ways to bring music to the people every day is a big thing for me. Also, working with other artists, and collaborating with the dance community is also one of my life goals. Bringing the human body and spirit together to make music in a beautiful environment. That's a beautiful thing!
JS: What advice would you give a young person who would like to do what you do?
EH: Go for it! Always. Also, it's never too early to collaborate with friends and colleagues. Working hard always pays off, and the more intimately you know something that you are trying to share, the better your ability to share it will be. Also, if something feels too difficult, work on it a tiny little bit every day, even for one minute, and it will get better, I promise!!!
JS: Of what value are critics?
EH: We are most often our own worst enemy, and having a critical, thoughtful overview of a concert, or performance can be very valuable. It is also often a fantastic way to get the word out about a new project, or new composition. I often learn the most from my friends and colleagues discussing what they thought about a performance after the fact. I would love to see less headlines reading "classical music is dead" though, because it is most definitely alive and well all around the world. How do I know? I've seen it, and been part of it, all around the world.
JS: What do you ask of your audience?
EH: An open mind.
JS: What specifically would you change about what goes on in the world and the arts?
EH: I would love to be part of a change in the education system, and making it much more about problem based learning. Bringing the arts back into schools, and giving children and young people more of a voice.
JS: If you could relive one experience from your creative life, what would it be and why would you do so?
EH: Many times, walking off stage with my dearest friends, we have looked at each other and all felt like just walking back on stage and playing the whole concert over again right then and there. Those moments are so special, because it's like we all reach the point where we are making the best music we can make, and the high is really thrilling. But like any high, there is no way to actually relive it. Those moments that you get to have with people in your life, those are the most special things in the whole world, but reliving them is impossible, trying to make more amazing experiences happen? Now that is worth going after.
JS: Tell us what it feels like to be a figure who is presented somehow in the media. What effect does this presence have on you?
EH: It is a difficult balance, living in your own reality and the reality of the public. Articles, newspapers, and tv spots, these can all be a boost, or let down. I think it is very important to not let any of these avenues get in the way of what you really love to do, and what you would really like to become, because I believe it is easy to become attracted to how the media sees you and how you want the media to see you, but then what you really want gets tossed aside, and your goals and dreams cannot be pushed aside!
JS: Name two places you would like to visit, one you haven't been to and one to experience again and briefly tell us why
EH: During my undergraduate degree at Oberlin Conservatory a few of us spent a few weeks in Panama over winter term. This was an incredibly special trip because I was introduced to a completely different culture and as 21-year-old, I found it very compelling to be part of the Panamanian's attitude towards music. I mean, Music was everywhere, it leaked out of their bones. We danced, we practiced, we improvised, we sang songs. There were very few moments without some sort of homemade soundtrack. So for me, I would love to go back to Panama, and I would love to explore South America.
JS: Please tell us about one or more projects that you have been working on, are preparing, or have recently completed. Why do they matter to you and why should they matter to us?
EH: I am working on a new composition. One day it may even turn into an Opera. It involves dance, voice, instruments, staging, choreography. This is a very exciting thing for me to talk about with my students, because I can talk to them about how important it is to find your own niche. How important it is to discover what you really love to do, what you really want to say, and then to go after it! My whole career has been about following my dreams. This has sometimes gotten me into trouble, because a lot of the things that I'm very excited about are not very conventional, and have very little financial support. However, following them is so important to me, that the details in which to make them happen become less important. So, in the coming year or two, keep a look out for a new composition, and my debut solo album.
JS: Let's talk about the state of the arts in today's society, including the forms in which you work. What specifically gives you hope and what specifically do you find depressing?
EH: Every day there are people around the world creating absolutely incredible new material. I hear about new chamber groups, new albums, new bands, new compositions, new collaborations. Where I get worried is with the people that have become so insulated by social media, that the experience of going out to an event or a concert has become too much. I feel like I can talk about this issue because I have these moments where I feel like going out and being social and being in a crowd is just too much for me. I hope that we can continue to inspire people of all ages to be active members in their communities and continue to support their fellow humans and artists of all kinds. This will create a better future for us all.
JS: Finally, what do you yourself find to be the most intriguing and/or surprising thing about you?
EH: I am finding this question so difficult to answer…