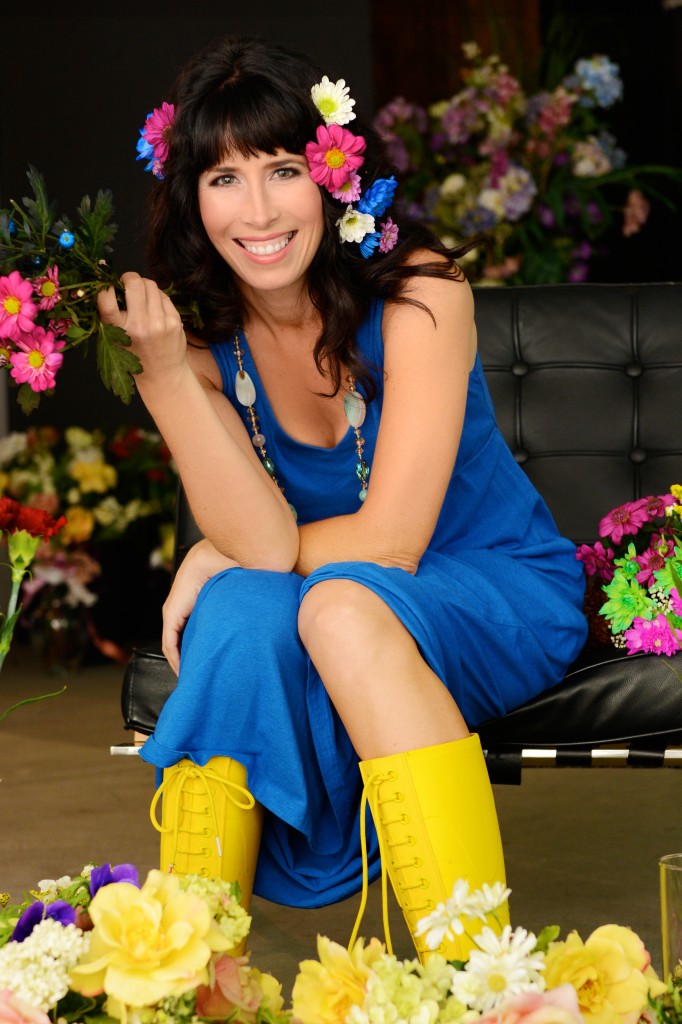 JAMES STRECKER: If you were asked for 50 words for an encyclopedia to summarize what you do, or have done, in the arts, what would you say?
ANDREA MENARD: Métis performer, Andrea Menard has used theatre, film/tv, music, public speaking, and writing to find her loving, authentic, Indigenous, Feminine voice.
In this time of great upheaval, where the old patriarchal systems are crumbling, Andrea has given her voice, her body, and her heart to help revive Love on this planet, and to rebirth the Sacred Feminine.
JS: What important beliefs do you express in or through your work?
AM: We are a Human Family.
There is no "us vs. them".
That we are Spiritual Beings having a Human Experience.
That all Beings on and of the Earth are interconnected.
Indigenous people and teachings are Sacred.
Mother Earth is a living Being, who is our Mother.
Women are Sacred.
JS: Name two people, living or dead, whom you admire a great deal and tell us why for each one.
AM: Jennifer Podemski:
• Beloved friend, actress, film & tv producer, director, artistic producer of Indspire Awards
• First Nations & Israeli heritage
• Gemini Award winner, multiple Canadian Screen Award nominee (winner?)
• International film festivals: TIFF, etc.
• Kick ass actress! – worked with Sarah Polley, Benicio Tel Toro
• Producer of Empire of Dirt, Moccasin Flats, Rabbit Fall, The Other Side, Seventh Generation
• Huge supporter for Indigenous youth and ground breaker for Indigenous people of all kind. Opened doorways in the film and television industry. First All-Native production team (producer, actors, writers) in Canadian Television.
• visionary, do-er, fearless
• Her superpower: connecting people and seeing the best in everyone
• http://www.jenniferpodemski.com/
Shannon Loutitt:
• Beloved friend, honour runner, writer, co-founder and CEO of International Indigenous Speakers Bureau
• Métis & First Nations heritage
• Wanting to raise up her fellow Indigenous brothers and sisters, and create lasting bridges between Indigenous and non-indigenous communities, she co-founded the first ever Indigenous Speakers Bureau
• Ran 100 miles in 24 hours to honour her great grandfather Billy Loutitt, and retrace his heroic journey from Athabasca to Edmonton in 1904 (?) to get help for a flood threatening the HBC post of Athabasca.
• Ran 100 km from Saskatoon to Batoche with a young group of Honour Runners she trained as part of the Commemoration and Reconciliation Ceremony at Batoche in 2010. They delivered a message in the way of the runners of old.
• google Shannon Loutitt!
• http://kickasscanadians.ca/shannon-loutitt/
• https://www.iispeakersbureau.com/
JS: How have you changed since you began to do creative work?
AM: I now recognize that this innate creative ability needed nourishment in, not only my life, but in this world where creative arts are less valued. Now that I have honed my creative talents, they flow more easily. I trust them so implicitly now, that I can't imagine operating solely from that logical brain. To tell you the truth, I don't really remember what I was like BEFORE accessing this part of me.
JS: What are your biggest challenges as a creative person?
AM: Financially supporting my big ideas. Since I moved away from my home in Saskatchewan, and fell under new granting systems in the new province of BC, I realized how tenuous an artist's life really can be. If you get a NO for a project that costs $35,000, but you have already committed your heart and your community to moving forward, you cannot turn around.
My projects MUST move forward. I think in visionary ways. When I "see" something, I "expect" the world to get on board. When it doesn't, either financially or otherwise, it confuses and even shocks me. Is that arrogance? Or vision? haha
JS: Please describe at least one major turning point in your life.
AM: Moving away from the Métis homeland was a huge change that I didn't know would affect me so deeply. When you move to another people's territory, you are not the "Host" anymore. I took it for granted. Now I am a guest as the Coast Salish take over this role.
Another major event was when I really "accepted" my Cree Name, Notigwew Yutin – Grandmother Wind, that was given to me in ceremony. I literally kept it on the back burner for 4 years, before I understood that this little old wise woman inside of me has been there all along. It's like I came out of the spiritual closet and started teaching healing methodologies through voice. Totally didn't see that coming!! (join my newsletter, Grandmother Wind's Tribe, to understand what I mean!!)
JS: What are the hardest things for an outsider to understand about what you do?
AM: Getting people of privilege to not only empathize but to actually "see" the struggle of those who are not privileged is very challenging. The blinders that enfold many Canadians are still pretty firmly entrenched.
And I've come to realize that my creative gifts are enhanced by my empathy. I take these two parts of me so for granted that I forget that not everyone FEELs the world around them so intensely.
It is hard to understand empathic abilities if one does not live from one's heart. For example, when something painful happens to my fellow human Relatives or my animal Relatives, I feel it as if it were my own trauma. This is not the case for others.
Maybe outsiders don't understand why "bringing communities together in peace" or 'ending violence against women" means so much to me. It hurts one's SELF too much to allow violence to be perpetrated upon OTHERS.
JS: How and why did you begin to do creative work in the first place?
AM: I am a Creative being. As are all human beings. There was never a time, when I didn't create. I simply did what I was called to do.
JS: What haven't you attempted as yet that you would like to do and please tell us why?
AM: Hmm. I don't know.
I wanted to take my one woman show, The Velvet Devil, across Canada and make it into a film…and I did both.
I wanted to record uplifting music that offered well-being to humanity…my album Lift was released two years ago.
I wanted to do a symphony show…I debuted my show, I Am Andrea Menard, at the Regina Symphony Orchestra in 2014.
I wanted to do a TED talk…so I worked my butt off all year and am about to speak at the prestigious TEDx Stanley Park this March 3rd, 2018.
JS: What are your most meaningful achievements?
AM: Everything I have done that helped me overcome tremendous fear or obstacles.
The Velvet Devil – this bush girl was forced to learn 3 industries I knew nothing about: theatre, music and television.
Lift – this cd was a positive message for the world. Nowadays, I want my listeners to be uplifted and filled with hope about their own life. See my Music Messenger website for more info on this change of heart:
http://themusicmessengers.com
Finding the courage to speak about Violence Against Women in my TEDx talk. It was the last topic I wanted to talk about, because I was scared and ashamed, but the times is now. And the beauty that has come out of this endeavor has been amazing: a new song, a new video, and a movement to end violence against women.
JS: What advice would you give a young person who would like to do what you do?
AM: Never give up on your dreams or your calling. There is a ton of rejection in life, especially in the entertainment industry, and you can't take NO for an answer.
If you listen to the call of your heart, no one will ever succeed in throwing you permanently off your course. Others may try to interfere, but only you can rise up in self-protection. Creator gave us humans our gifts and our callings. It's up to us to answer and honour them.
JS: Of what value are critics?
AM: In my mind, there is no reason whatsoever for non-constructive criticism. Never will an outsider know the full story and should never have the right to make-or-break an artists' vision. Since most critics are Eurocentric, and ill-informed to Indigenous and other cultural and spiritual standards, their "expertise" is dreadfully uneducated and damaging to the success of non-Eurocentric projects.
JS: What do you ask of your audience?
AM: To open their hearts and FEEL. I realize that this is one of the main roles I have taken on. To help people feel. I like to think that I help those with closed hearts find a safe place to flower and share love. We are not going to get anywhere in this world without love. And the only way to feel love is to feel. Period.
JS: What specifically would you change about what goes on in the world and the arts?
AM: I would change the way we treat Mother Earth and the terrible cruelty we inflict on each other. Human beings are so traumatized by millennia of violence that we have almost forgotten how to "love our brother." As a Metis woman, who honours the mixed heritage I hold in my blood, bringing people together matters to me very much.
JS: If you could relive one experience from your creative life, what would it be and why would you do so?
AM: I have lived such a full life that I couldn't possibly think of reliving just one Then I wouldn't be open to the outrageous adventures that are still to come!
JS: Tell us what it feels like to be a figure who is presented somehow in the media. What effect does this presence have on you?
AM: I'm not sure your meaning on this one. Do you mean being stereotyped in the media as an Indigenous person? Or as a celebrity in the media?
It is very disconcerting to be one of the misrepresented minorities on television or in the media. When you are one of the people that is being stereotyped right before your eyes, and you can't do anything to change it, its infuriating. They say that it's not that stereotypes aren't true, it's that they tell only one side of the story. I can't stand not having the whole picture revealed truthfully.
JS: Name two places you would like to visit, one you haven't been to and one to experience again and briefly tell us why
AM: Egypt. Need I explain?
The South of France. – I went on a Mary Magdalene Camino and was profoundly changed by the landscape and hidden history of the place.
JS: Please tell us about one or more projects that you have been working on, are preparing, or have recently completed. Why do they matter to you and why should they matter to us?
AM: I just finished recording a song that is very close to my heart right now, called Silent No More.
It came as a result of needing a song to illuminate my TEDx Stanley Park topic: Violence Against Women Silences Far Too Many Voices in our Society.
When I finally had the courage to talk about this publicly, in other words, cracked my own silence, I knew that the only way I could speak up was to use all my talents to share the message. And that meant through song.
The song and topic are going to be released in March. We have plans to fill the streets of Vancouver's downtown eastside with Indigenous women and allies in a March with t-shirts saying #SilentNoMore and #WeAreSacred.
I've also developed and am in the final stages of recording the teachings/music for my "Honouring Your Four Sacred Bodies" workshop.
JS: Let's talk about the state of the arts in today's society, including the forms in which you work. What specifically gives you hope and what specifically do you find depressing?
AM: The dramatic change in all my industries was incredibly challenging for me and my co-writers. It's like we wanted to be riding on the coattails of our success a bit, but instead had to reinvent ourselves like we were beginners. Ouch.
I like to think that regardless what is happening "out there" in any industry, the real valuable work is in the quiet creative space.
As always, I re-invented myself to stay creative and stay active. You may not have seen me touring the country with tons of music releases, but you would have seen me on Netflix series, Blackstone. Or when all the industries seemed to reject me for a time, I was in my little office writing and creating healing modalities!!
I refuse to get depressed about all this change. It's good to adapt.
JS: Finally, what do you yourself find to be the most intriguing and/or surprising thing about you?
AM: I am quite resilient. I used to hate that word when it came to Indigenous people or artists, but the truth is when I look back over my career I have had tremendous challenges and let-downs. I got through each one. I rose to the top every time. So, I am going to actually honour myself for that skill. Haha.