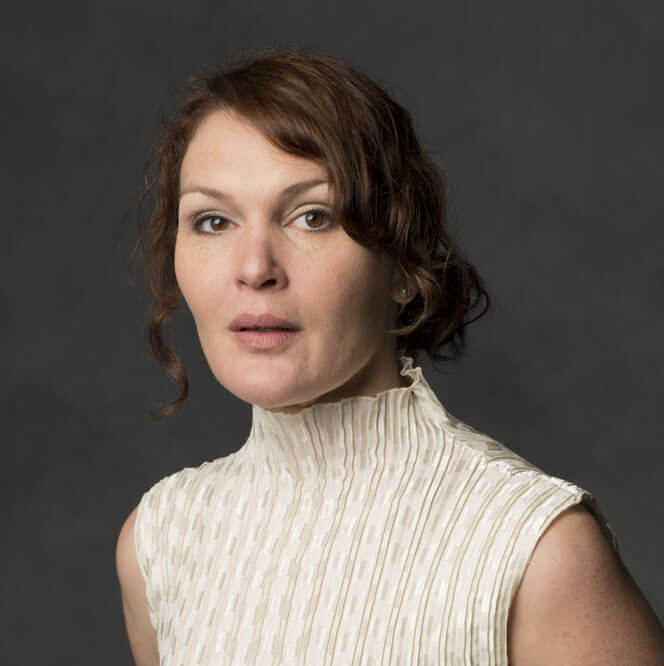 JAMES STRECKER: 1 If you were asked for 50 words for an encyclopedia to summarize what you do, or have done, in the arts, what would you say?
TARA ROSLING: As an actress, I attempt to offer the fullest life possible to the characters I am gifted to play upon the stage. Imagistically, I would describe my work as, "climbing into my character's skin and tethering myself – my heart, my mind, my anatomy – to theirs" – thereby illuminating their story – their wants/needs/hopes/dreams/struggles via the action of the play.
JS: What important beliefs do you express in or through your work?
TR: Ultimately, I believe that my job is to explore & bring to light the complexly woven fabric of the human condition. I believe the theatre has tremendous power – it has the potential to provoke, challenge, inspire, transport, illuminate, and move. I believe theatre, at its most profound, offers a kind of communion. I give myself over to my craft with the faith that if I and all my colleagues do their jobs well, the audience will be impacted/altered in some way – in essence, reminded and reassured that we are all one.
JS: Name two people, living or dead, whom you admire a great deal and tell us why for each one.
TR: I admire my Great Aunt Joyce tremendously. She is a force of nature whose joyous, curious, and mischievous spirit always makes my heart swell. She has an insatiable appetite for life and learning, and always sees the glass half full. She is an indomitable spirit with a huge heart and a tremendous sense of humor. I want to be just like her when I grow up!!
I have contemplated 'the 2nd' & am at a loss … so I shall say "Martha Graham, Peggy Baker, Frida Kahlo, Chopin, Andrea Bird, Cate Blanchett, Daniel Day Lewis, Peter Hinton to name a few … because they all were/are incredible artists marching to the beat of their own drum!!
JS: How have you changed since you began to do creative work?
TR: Oh, my goodness! Well, to begin with … I'm decades older (&, if I may say so myself – wiser!) I'm now a mother & a wife … coming from a severely dysfunctional family, having a family of my own has deeply shifted who I am, my relationships (to myself & others) & how I engage with the world around me.
Initially my work was pure conviction … now there's room for breath, thought & compassion. I think that I am now more grounded, and am able to bring more of myself to my work with a greater sense of humor than ever before.
JS: What are your biggest challenges as a creative person?
TR: Without a doubt my own insecurity is my greatest obstacle – but is this not true of us all? I think many artists question if what they have to offer is of value … this is certainly true of me.
JS: Please describe at least one major turning point in your life.
TR: Becoming a parent was a major turning point – my perspective/priorities have certainly shifted since the birth of my daughter Eliana. When I was younger 'the work' was all I saw & all that mattered to me. I still love what I do for a living tremendously, but my family now takes priority.
Meeting and working with Peter Hinton in 2011 on 'When the Rain Stops Falling' was another turning point. It came at a time in my life when I was considering walking away from acting … but working with him reminded me WHY I do WHAT I do: he is a remarkable and deeply inspiring artist/director/human whose presence in my life I will always be grateful for.
JS: What are the hardest things for an outsider to understand about what you do?
TR: Such an interesting question! As actors we often receive questions like "How do you remember all those lines". Or the romanticized, "It must be so amazing to do something you love for a living". And don't get me wrong – it is!!! That being said, not every show is a labor of love … some shows are gifts to play every performance and others are paying gigs that we do our best to commit to every evening. I think what maybe most people are unaware of is that our work is not confined to rehearsal and performance; i.e. we don't punch the clock and leave our work in the rehearsal hall until the next day – rather, 'the work' always bleeds into our daily lives. Actors are ALWAYS working/thinking/processing/obsessing … about their characters, this moment or that, this beat, this relationship, this direction, this accent. And we arrive on the stage we are not just playing a part … but opening ourselves, with great vulnerability, to share all the work, thought, care, and preparation that has come before.
JS: How and why did you begin to do creative work in the first place?
TR: My mother is an artist – a visual artist first, who became a music therapist later in life. Hence, art was a very present influence during my upbringing. When I turned 13, at my request, I was given the gift of acting classes. I had an amazing teacher who had a profound influence on me; she assigned me a monologue from Antigone and worked with me in such a way that I became forever hooked – & the rest is herstory … at 13 I devoted my life to acting!
JS: What haven't you attempted as yet that you would like to do and please tell us why?
TR: I'm a pretty impulsive person. In 2011 I decided I wanted to do my Yoga Teacher Training – I did & have taught here in Niagara for many years. Two years ago, I decided I wanted to take piano lessons – I just took my Grade 3 piano exam!!! I've also embarked on the path of teaching Drama over the past 4 years and have enjoyed that tremendously. I guess next on the docket is something inspired by an incredible friend of mine, Marinda de Beer – she has been a devoted meditator for some years now & recently did a 4-day (silent) meditation retreat … I would like to attempt THAT!!
JS: What are your most meaningful achievements?
TR: If a child can be categorized as an 'achievement' – my daughter. Or perhaps I should rephrase that as 'being a mother'.
Moving beyond dysfunction and fear to find/create wholeness, stability, & love in my life … greatly assisted by my husband & co-parent Patrick McManus.
Learning to play the piano.
JS: What advice would you give a young person who would like to do what you do?
TR: Aside from parenting, it's the most challenging and rewarding journey you'll ever embark on.
JS: Of what value are critics?
TR: Interesting question. Sometimes I ask myself the same thing. If a critic's heart is in the right place and they truly believe in the value of theatre (I think of Jon Kaplan) I think they can be of tremendous value; to bring upcoming talent into the spotlight, to offer a critical eye with a loving hand, to keep the bar high whilst also keeping their own agendas/egos in check. But often it occurs to me – after dedicating hours of rehearsal and thought and care, and giving all of oneself over to a piece of theatre, only to have it subjectively shredded to pieces by one person on opening night – that the current & traditional role of critics is a systemic absurdity. If feels like the time is ripe to re-evaluate the role of theatre critics.
JS: What do you ask of your audience?
TR: That they turn off their phones, meet us half way, and listen.
JS: What specifically would you change about what goes on in the world and the arts?
TR: More rehearsal time – for life and art. More roles for women – for life and art.
JS: If you could relive one experience from your creative life, what would it be and why would you do so?
TR: There are, of course, very special experiences which perhaps one would wish to 'relive' because there were so special – i.e. I wish 'When the Rain Stops Falling' had another life because it was such an extra-ordinary production. That being said, one can never be certain that if given the opportunity to 'relive' an experience it will be the same, or even similar. So, if given the opportunity, I would perhaps choose to relive a creative experience that I felt I missed – i.e. could be improved upon now that I have more life experience and know more about my creative process. For example, I never felt that I fully 'got' Viola in Twelfth Night … I was too impulsive and impatient at 29 to understand "Time thou must untangle this not I …". That is only one example of many. But I certainly don't regret any of the choices I have made during my creative life … for they have informed who I am today.
S: Tell us what it feels like to be a figure who is presented somehow in the media. What effect does this presence have on you?
TR: Again, an interesting question. It really depends on the project. I have done a fair bit of self-producing – in these instances I rely heavily on the media to transmit information out into the public eye. Certainly, when I was younger, and embarking on my career as an actress, media attention meant a lot and it was tremendously exciting to receive any coverage! Now, aside from when a show that I am in is reviewed or when I am asked to engage in promotional material for a project I am working on, I don't really think of myself as a figure who is presented in the media. I feel it is my place to commit to the project I am working on as fully as possible & if anyone has questions about it, my place is to speak about the work as candidly as possible.
JS: Name two places you would like to visit, one you haven't been to and one to experience again and briefly tell us why
TR: I'm dying to go to Iceland … to sit in a hot spring & watch the northern lights. Call me crazy, but does that not sound AMAZING!!
Two winters ago, we went on a family trip to Costa Rica – we spent a month tooling around the country. Along the way we discovered 'Samara' – a family friendly town on the Nicoya Peninsula. It was pretty special – the ocean was beautiful & calm enough to spend hours in, in the evening there were all sorts of beachfront eateries to choose from, craft beer down the street, & coconut popsicles – what more could you ask for? I would go back there in a heartbeat.
JS: Please tell us about one or more projects that you have been working on, are preparing, or have recently completed. Why do they matter to you and why should they matter to us?
TR: I just finished working on the World Premiere of a new Canadian play called SILENCE by Trina Davies at the Grand Theatre in London, ON. A beautiful love story/ghost story/memory play about Mabel & Alexander Graham Bell, exquisitely directed by Peter Hinton.
Mabel Hubbard became deaf at the age of five due to a life-threatening bout of scarlet fever. Her parents ensured she had the finest education as it was their desire to equip Mabel to 'enter society'. She was a very proficient lip reader and speaker, and was initially introduced to Alexander Graham Bell as his student. Over time they fell in love and SILENCE charts their turbulent relationship over the course of 50 years.
The play is very unique in that it tells Mabel's life story from her perspective – i.e. when she engages (lip reads & talks) the audience hears the world & words of the play; BUT when Mabel disengages (turns away physically or emotionally) the world on stage become silent. It was an extra-ordinary experience! One of those plays where all the elements seemingly fused in a cohesive whole and it was truly a gift to perform each show. I feel deeply indebted to my cast mates: Graham Cuthbertson, Suzanne Bennet, Catherine Mackinnon, Madelyn Narod, & Michael Spencer Davis.
JS: Let's talk about the state of the arts in today's society, including the forms in which you work. What specifically gives you hope and what specifically do you find depressing?
TR: I find it hopeful that, despite the onslaught of technology & iPhone & I this & I that – people still come to see/hear plays, art, dance, and music. I find it hopeful that diversity in the arts is being addressed. I find hope in the #metoo movement – that women's' rights & human rights' issues are beginning to be recognized & addressed.
I find it depressing that theatre/art is having such a rough go of it at present – that in our current world of increasing technology & immediate gratification somehow the value of theatre/art has taken a bit of a back seat. I find it depressing that the old cliché is true, "once a woman hits 40 there are fewer & fewer opportunities/roles available to her". I find it depressing that there are seemingly very few resources available for those who are creating art; i.e. for SILENCE – the NEW CANADIAN play that I just finished performing – we had 2 1/2 weeks of rehearsal/tech before we met an audience!!!
JS: Finally, what do you yourself find to be the most intriguing and/or surprising thing about you?
TR: I'm a Grade A goofball with a lipstick fetish.